Leavenworth County Commission goes ahead with K-7 study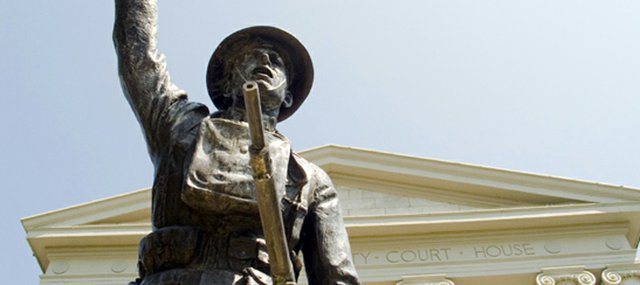 Outflanked and outvoted, Leavenworth County Commissioner J.C. Tellefson has given up on his push to advance an enhanced Kansas Highway 5 plan as the county's sole project for the 10-year, $8.2 billion Kansas transportation plan.
With Tellefson's concession, the commission Thursday agreed to go ahead with a economic assessment/land-use study of the Kansas Highway 7 corridor in the county.
Tellefson asked Aug. 2 that the commission's decision of four days earlier to request the Mid-America Regional Council do the study of K-7 be reconsider in favor an economic assessment of K-5 improvements. The K-5 upgrades would include its makeover to a freeway to Interstate 435 east of K-7 and construction of a bypass around Lansing and Leavenworth west of K-7.
The commission's decision not the reconsider the MARC request came after Lansing Mayor Kenneth Bernard told commissioners the request for the K-7 study was made with Wyandotte County.
"We worked hard with them," he said. "Would they go along with this. Probably not."
A K-5 economic assessment study would have strengthened the combined improvement's chances as the Kansas Department of Transportation considers projects for the 10-year plan, known as K-LINK.
At Tellefson's request, the county sent letters to the mayors of the county's four largest cities asking they consider supporting the K-5 for K-LINK, and eliminate support for the widening for the Kansas Highway 92 bridge over the Missouri River.
Tellefson has argued a K-5 bypass and freeway would benefit all of northeast Kansas and win support of Atchison, Brown, Jefferson and Wyandotte counties. He maintained bridge project, in contrast, would have no support from Missouri.
But Tellefson learned after addressing the Leavenworth City Commission, that body remained committed to the bridge.
He would advocate for the K-5 bypass in the future, but he would no longer fight for K-5 to be the only K-LINK project, Tellefson said.
"I'm through catching spears on this hill," he said.
Mell Henderson, director of transportation for MARC, said the scope of the K-7 study had not been determined. But he said it would look at a series of compatibility issues.
Those were:
• What businesses or industries were compatible with the corridor and their demand.
• The compatibility of one city or jurisdiction's development plans with its neighbors.
• The compatibility of land uses along the corridor with its ultimate upgrade to a limited-access freeway.
• The potential for future development in the corridor to help pay for highway upgrades through a transportation development district or other funding measures.