4-H Falks prepared for county fair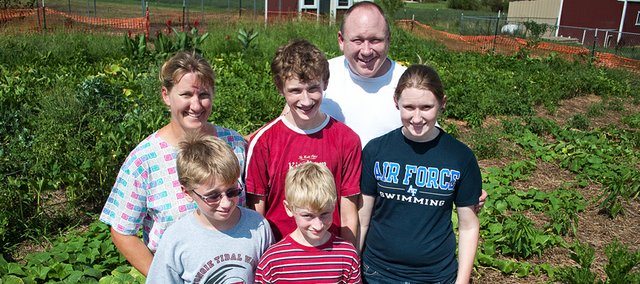 The kitchen of the Falk family is filled with the smell of baked treats.
Janet Falk helps her youngest son Alex, 9, decide on what food project to make for the fair, while also helping her son Luke, 11, with his baking project.
"You know what?" Janet asks Luke. "I'm going to need two and a half sticks, so we are going to need to get more butter out."
"More butter, lots and lots of butter," Luke replies, while stirring the contents in his bowl.
Near the oven, David Falk, 14, gets his sage berry fingerprint cookies ready for the oven.
In the living room, Lacie Falk, 17, sits in front of a sewing machine as she tries to get her pleated skirt just right.
For years the Falk family has been using the weeks before the Leavenworth County Fair to make sure everything is perfect, whether it's testing new recipes, trying on new outfits or picking the choicest veggies from outside.
While Janet said her children won't have the same kind of experience she had growing up on a farm, she wanted them to have something similar to it because it would teach them valuable life lessons, such as how to cook so they don't eat junk food all of the time.
Lacie admitted that before 4-H she was terrified of chickens, but now she likes spending time with them and even carries around the family's favorite chicken, Lucky.
David said he also had learned some things about animals that he will always take with him… even though it may not be useful information.
"When we chop the head off of a rooster… its nerve endings get all crazy and they start flapping around," David said, much to his mother's dismay, when asked what was the most interesting fact he learned about poultry. "It's pretty cool."
Besides cooking and poultry, which David has done for four and two years respectively, he is in his first year of 4-H leadership and fourth year in gardening.
Lacie has done sewing at 4-H for three years and poultry for two. This year she will also be showing her dog, photography and art for the fourth year, leadership for the first time and knitting and quilting for her second year.
She said that quilting is among her favorites because it is a stress reliever as opposed to sewing, which for her can be a stress causer.
"There are a lot of things that can go wrong when you start out sewing," Lacie said. "Quilting is a little easier because of the stitching you use, so it's better for me."
This year she will be showing a watermelon quilt she made as well as her skirt, lab coats and a dress she can wear as part of the Chieftain singers during the annual Madrigal Feaste.
The two youngest boys have big projects for the great outdoors.
This year will be Luke's fourth for cooking, gardening and dogs, second for poultry and first year for rockets and bucket calf.
He said he likes tending to the family garden because they don't have to go to the grocery store as often. They can pick most of their veggies from their backyard.
He also likes learning new things, such as how to raise a bucket calf.
"Cows need more love then I thought they needed," Luke said.
Alex learned the same lesson when his bucket calf got sick and he had to give it medicine.
"The hardest thing was getting him still so we could give him the shots," Alex said.
This is Alex's first year for his bucket calf and rockets, and second year for gardening and poultry.
When he's not tending to his bucket calf, he is tending to the garden, where he makes sure to pull out any rotten vegetables and makes sure the bugs aren't getting in.
And when the plants are ready for harvesting, he is there to lend a hand. He said his favorite is picking watermelons.
"It has vines, so you can pick them up without picking up the whole plant," Alex said. "They are very huge. I like eating watermelons."