Braves' Puckett an All-American
Sophomore-to-be makes
BSHS

 history at national tourney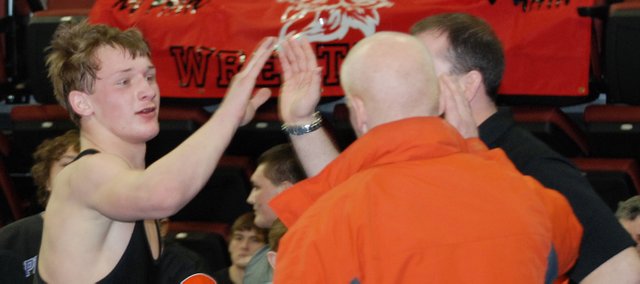 Bonner Springs wrestling coach Brandon Jobe knew he had a special group of freshmen to work with when he took over the Braves' program last year.
Three of those freshmen went on to advance to the Class 5A state tournament, two earned medalist honors and one appeared in the state finals.
Now, that class has produced the program's first All-American.
Aaron Puckett — a fourth-place state medalist at 140 pounds in late February — will enter his sophomore campaign with even higher expectations after earning All-American honors in the 145-pound weight class at the 2010 Freestyle and Greco Roman National Tournament July 18-24 in Fargo, N.D.
Puckett placed eighth in his weight class in Greco to secure All-American honors. He also competed in the freestyle tournament but fell just short of more All-American honors when he lost to the eventual fourth- and seventh-place finishers.
Jobe said the success at Fargo proved that Puckett was not content with the success he'd had during the high school wrestling season — or in any other sport for that matter.
"Aaron is a very dedicated athlete. He is very focused on improving himself," Jobe said. "Since the high school season has ended, Aaron has been involved in many different activities. He competed in the Kansas Kids Wrestling series, where he did not lose a single match, winning a state title. He also played baseball in the spring, and during baseball season, he then began attending freestyle and Greco Roman practices one to two times per week. He competed in a couple local tournaments as well as the Freestyle and Greco Roman State Tournament in Wichita. He won another state title in Greco and placed fourth in freestyle.
"He continued to practice and improve as he attended football weight training and conditioning four times per week and competed in seven-on-seven (passing league). Not only is Aaron becoming a better wrestler, he's becoming a better athlete."
Jobe said he knew Puckett had the potential to become an All-American even though the tournament in Fargo is considered to be the toughest high school wrestling tournament in the country. Jobe said Puckett's competitive drive and will to win helped him overcome numerous tough opponents and stay focused in the high-pressure environment.
"There are 23 mats and thousands of competitors," Jobe said. "It's very easy for a young man to get overwhelmed. He stayed very focused, and stuck to the techniques and strategies we had worked on all summer."
As the first All-American in Bonner Springs history, Jobe said he hopes Puckett's accomplishments will help raise the bar for the rest of the program and give current and future BSHS wrestlers something to strive for.
"I'm hoping that this creates excitement for the Olympic styles of wrestling in our community," Jobe said. "Many young wrestlers are skeptical to wrestle these styles, but they are very beneficial for any wrestler, regardless of age, size or experience level. I know Aaron really enjoyed the experience, and I hope he passes that on to other guys on the team.
"Aaron's All-American status is a statement that our programs are on the right track. I say 'programs' because Aaron was involved with the Bonner Springs Kids Club and Clark Middle School wrestling well before I began working with him. The Bonner Springs Kids Club is a top-notch program led by Jerry and Cheryle Seaton. Jerry has been very instrumental in the development of our young wrestlers; he's the secret to our success. He led the kids club to a ninth-place finish at the Kids State Tournament this year out of 163 teams."
In addition to Puckett, BSHS senior-to-be Caleb Seaton also competed in Fargo. A few close losses kept him from becoming an All-American as well.
"He also competed well in Fargo, proving he can compete with the best in the country," Jobe said, noting that it was Seaton's first time wrestling either freestyle or Greco.
Jobe praised the rest of his wrestlers for putting in a lot of work during the summer. Jonathan Blackwell — a sophomore-to-be who placed second at state as a 130-pound freshman — didn't wrestle at Fargo, but he did put in more than 30 matches and competed for the Kansas National Dual Team in Rochester, Minn.
"It's really great to see Jonathan putting so much time and effort into improving himself," Jobe said. "He had a great high school season, is not satisfied with it, and is working hard to improve on that."
Bonner Springs wrestlers participated in at least 10 tournaments and camps this summer, including the Kansas Kids State Series, Brute Adidas Nationals, St. James Freestyle Tournament, Schoolboy National Duals and Cadet National Duals.