New signal slows traffic near school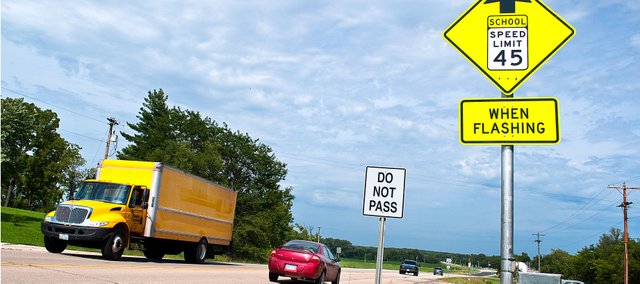 The beginning of a school year is full of many new things such as school supplies, students and teachers. In the case of the Linwood Elementary School, the new year also comes with new safety precautions.
Recently, the Kansas Department of Transportation has installed new traffic signals on the east and westbound lanes of Kansas Highway 32 near Linwood to slow down traffic near the school.
"I think that it's something that we are excited about," Kaci Brutto, communication coordinator for the Basehor-Linwood School District, said. "It's a highway and there have been three or four fatality accidents since the beginning of the year along K-32 within a mile or two of the school. We would like to do everything that we can to ensure the safety of our students, especially because they will just be elementary students this year."
The new flashing beacons were installed under KDOT's ongoing Rural School Zone Program, which tries to help underserved or overlooked schools in the state. The two flashing beacons cost around $14,600 for the parts and installation.
Kimberly Qualls, spokesperson for KDOT, said schools can be nominated by people in the district, or they are nominated by KDOT employees who know of a particular problem area.
During the school year and during designated times in the day, the flashing beacons will slow traffic down to 45 mph while in the school zone.
"There aren't any crosswalks, so this is more for the drivers who are traveling at high speeds," she said. "The flashing lights usually get a lot of attention from drivers who start to wonder why the light is flashing and it will let them know they are in a school zone and have to reduce their speed."
The lights will come on half an hour before school starts and for half an hour after it ends.

Karen Kane, Linwood city clerk, thinks the traffic beacon is a great idea.
"People are always flying down the highway when they come into town," Kane said. "Hopefully this will make people slow down."
While KDOT spearheaded the traffic beacons in Linwood, Brutto said the school district is following suit by installing similar traffic signals near Glenwood Ridge Elementary School and the new Basehor-Linwood Middle School.
Along with these two traffic signals, the school district will also post crossing guards to help direct students and traffic.