KDOT

approves larger stop sign at

CR1

/K-32 intersection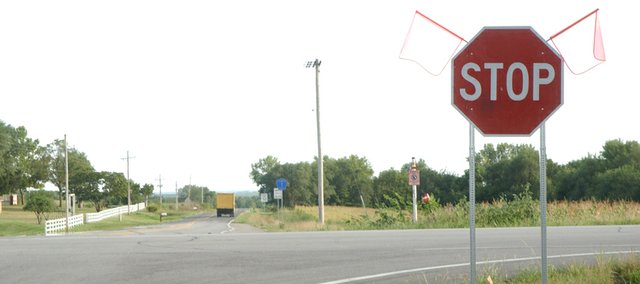 Leavenworth County got an encouraging response from one state agency but is still waiting word from another.
On Thursday during his monthly update to the Leavenworth County Commission, Mike Spickelmier, county engineer, said the Kansas Department of Transportation had agreed to alterations at the Kansas Highway 32/Leavenworth County Road 1 intersection.
After a fatal accident at the intersection in late May, the county requested KDOT allow changes at the intersection that would include larger stop signs, reflective tape on the posts of the stop signs and rumble strips.
Spickelmier said KDOT has agreed to larger "stop ahead" signs, a larger stop sign on the north side of the intersection and the placement of red flags on the north stop sign. KDOT officials said they would continue to work with the county about its concerns at the intersection.
The county engineer also reported the Kansas Turnpike Authority will start replacement this fall of four bridges over the turnpike that will close three county roads.
The bridges include:
• Two at the turnpike rest area on County Road 238. Work on those bridges is scheduled for December 2010 to June 2011.
• A bridge on County Road 25 about 4 miles north of Linwood. Work on the bridge will start in November and is scheduled to be completed in September 2011.
• The bridge on County Road 2 about 1 ½ miles south for Basehor. That project also is to start in November and be completed in September 2011.
The county's experience with the Kansas Department of Health and Environment has been less positive. Spickelmier said the KDHE still hasn't signed off on the $1.37 million Sewer District No. 3 sewer line project. The department's approval is necessary because the county's use of a state revolving fund to finance the project.
The contractor would have started on the sewer line at least two weeks ago with KDHE's approval, Spickelmier said. The line is to connect the Glenwood Estates subdivision to Basehor's sewer system.
The delay stems from correspondence sent by the KDHE during a recent public comment on the project. With that, KDHE officials requested the county respond to the comments point by point.
Two commissioners, John Flower and J.C. Tellefson, were unwilling to have Spickelmier or the public works department make that commitment. The points brought up in the public comment correspondence were either best answered by the KDHE, were answered in the material the county provided the department or still unknown, they said.
However, Commissioner Clyde Graeber, the past director of the KDHE, said the county would benefit from a more detailed response. He agreed to contact KDHE officials to attempt to get the project moving.
On Monday, County Administrator Heather Morgan said she was optimistic movement was made on the issue.