Ring master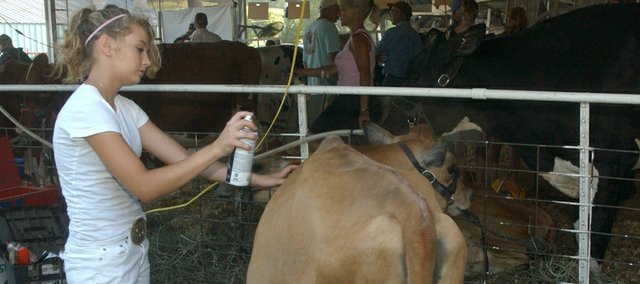 Taylor Leach was in a carefree mood Thursday evening as she helped prepare the dairy heifers she and her sisters would be taking into the show ring at the Leavenworth County Fair.
The 15-year-old Linwood girl talked shop with her father Rob Leach, snuck a quick blast of cool air from vacuum she was using to dress up a calf and joked about wearing her lucky necklace with its sliver cow charm.
Her mood would change about an hour later when she led a calf into the ring for the county 4-H senior showmanship competition.
In the 4-H competition, contestants are judged on how well they handle and show off their animals, the knowledge of the breed they relate in a quick interview with the judge and their and their cows' appearance.
"When I'm out there, it's pretty much just me and the judge," Taylor said. "I'm in a trance, focusing on me, my calf and the judge.
It's a focus Taylor has developed in her 12 years of showing her family's dairy cows and one that has earned her a good deal of success.
Taylor first won her age group's showmanship grand championship at the county fair when she was 10 and has won five since. She has won the dairy showmanship grand championships at the Kansas State Fair the last two years and won breed championships for Holstein and Jersey before the competitions were combined.
In national competitions, Taylor won back-to-back age-group showmanship championships at the All American Jersey Show in Louisville, Ky., and has a top-10 finish at the World Dairy Expo in Madison, Wis., the largest dairy show in the world.
With that record, Taylor might be excused for taking last week's county fair competition lightly. But she and her family said that wasn't the case.
"It's definitely an adrenaline rush," she said. "I'm always excited in the ring. I want to be in the ring."
Injuries
This year's run up to the showmanship competition went off without a hitch. But that's not always the case during the preparations and practice that precedes the shows she and her sisters Sophie, 6, and Erin, 11, attend. Like a rodeo bullfighter, Taylor can rattle off a list of injuries she's sustained working with or near cattle in preparation for shows. It's a list that includes a dislocated kneecap before the state fair and broken foot sustained three years ago at the Leavenworth County Fairgrounds.
"The day of the show, I was cleaning the stall and a cow stepped on my foot," she said. "I showed in tears, but the cow I was showing was grand champion."
Cows from the family dairy tend to be winners. Rob said the focus was on quality not quantity and the family only has about 35 milk cows.
The family dairy his father Robin and grandfather owned is one is a handful left in a county that had about 100 when he was a teen, Rob said.
Rob met his wife, Lisa, at a Missouri dairy show she was shooting while working out of Minnesota as photographer for a national dairy publication. She grew up on a farm in Pennsylvania her family has owned since the Revolutionary War and operated as a dairy since the late 1800s, she said.
With her family background it's not surprising the couple's oldest daughter took an interest in dairy shows at an early age.
"She was not very old — I'd say 3 or 4 — we went to a national show in Madison, Wisconsin," Lisa said. "It must have really made an impression on her. From that point on when people asked her what she wanted to do, she would say, 'I want to show cows.'"
Her background and enthusiasm may have contributed to Taylor's success in the show ring, but it is also the result of a lot of hard work, Rob said.
"Absolutely. She knows very well she has to work with these animals at home and train them and practice herself to be good at it," he said.
She's up at 5:30 every morning to help with at the dairy, Taylor said. Her chores include feeding grain to the heifers, helping her mother with the milking and, she adds with a grimace, mucking out the dairy parlor. Evening is a mix of chores and homework.
And about three weeks before shows, Taylor and her sisters begin preparing in a makeshift show ring on the farm with selected cows and calves.
Taylor supports her fellow Linwood 4-H'ers by watching them as they show their livestock at the fair. Showing beef cattle seems more difficult than dairy cow but those showing beef animals feel the same way about her specialty, she said.
She gets a taste of that when showing in the round-robin competition in which the grand champions in different classes show dairy and beef cows and sheep.
Pets
One thing does separate the beef and dairy shows. The beef and other market livestock shows at the fair end with an auction with the show animals often sent to the kill floor.
"Our cows are pets. I get tremendously attached to them," Taylor said. "We don't slaughter any of our animals."
But the family dairy is still a business and when an opportunity arose, one of Taylor's show cows was sold. Although Taylor still owns an eighth of the cow in a complex partnership arrangement, the cow is no longer on the farm.
"I don't ever get to see it," she said. "She's in Iowa or Ohio. I don't even know what state she's in anymore."
"It took me a long time to forgive him (her father) for selling that cow. I still haven't completely forgiven him."
Helping to ease the pain is the cow's success. One of its calves won a grand championship at the World Dairy Expo.
As for the future, the sophomore at Basehor-Linwood High School said she would like to follow in her mother's footsteps. She's interested in photography and writing and would like to work for one of the dairy trade publications, she said.
But for the present, she is still consumed with showing the family's dairy cows.
Thursday evening, Taylor followed her sister Erin and cousins Anna and Jacob Hahn into the ring for dairy showmanship competition. Taylor won the grand championship for the 4-H senior division. Anna and Jacob both won their age groups while Erin earned a blue ribbon.
Standing at a fence rail with her grandfather Robin after the showmanship competition, Taylor said she was "pretty happy" with her effort.
"The judge told me I did an excellent job and she could tell I worked with her (the heifer) before the fair," she said. "She gave me a few pointers I agree with. She said I might want to get her feet set a half second quicker so they would be set when the judge looked at her."
Her father said it was just another lesson she would apply as she continued to improve.
"She does a fantastic job," Rob said. "She gets a lot of compliments in other shows we go to from well-known breeders who say, 'She can show for me anytime.'"