Basehor resident opens taekwondo studio in Bonner Springs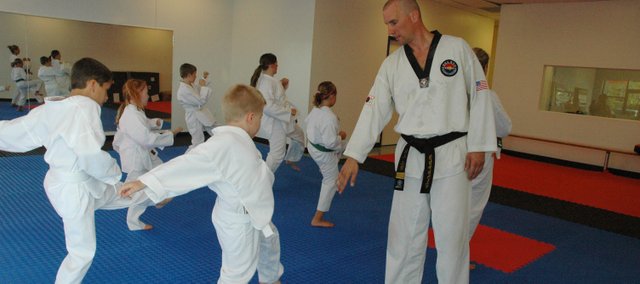 Taekwondo is more than just an area of self-defense.
Rick Grimm, who holds a fourth degree black belt in taekwondo, says the Korean martial art can contribute to all areas of a person's life by providing them with characteristics such as integrity, discipline and perseverance.
"You also develop a sense of self-confidence by the more you practice your taekwondo … the more confident you are in dealing with people on an everyday basis," Grimm said.
Area residents will get the chance to experience first-hand what Grimm is talking about by signing up to learn taekwondo at the recently opened Grand Master Kim's Taekwondo, 608 Tulip Drive, in Bonner Springs. Grimm said he opened the studio July 1 with the intention of teaching closer to home — he is from Basehor — and also expanding the business. The original location is in Olathe.
But the name Grand Master Kim is not just the name of a growing business. The taekwondo studio was started in 1991 by Nam Kim, who holds a ninth-degree black belt or "grand master" ranking, which is the highest attainable in taekwondo. Grimm said he started taking lessons at Grand Master Kim's about the time the studio first opened, developing his skills enough to become an instructor at the studio in 2002 and eventually taking over for Kim in 2006.
Taekwondo places much of the focus on kicking moves a person may use while trying to defend themselves, but Grimm said those who sign up to take a class will also learn the art of hapkido, another martial art in which Grimm holds a black belt.
"It's another Korean martial art form and it deals with more inside techniques. What if somebody grabs you, for example?" Grimm said, noting that lessons in hapkido would deal more with how to escape an assailant. "It's part of our taekwondo program. They get the hapkido influence."
Grimm said he hopes to expand the classes offered at Grand Master Kim's even more by eventually offering training in areas such as kick boxing and piyo — a blend of pilates and yoga moves.
"Our goal is to cultivate the physical and mental fitness of all of our students," Grimm said, noting he would accept students as young as 4 years old all the way "up to whatever age … If you want to participate at 65, you can."
Grimm added he would tailor the training to match anyone's skill or age level.
"Taekwondo is about yourself," he said. "You're not measured by anyone else or anyone else's standards."
To sign up for a class or for more information, stop by Grand Master Kim's during operating hours, which are from 5 p.m. to 9 p.m. Monday through Friday and from 9 a.m. to 2 p.m. Saturdays, or call (913) 441-9100. A ribbon cutting ceremony will be at 5:30 p.m. Wednesday, Aug. 25, at the studio.