District ready to open newest school building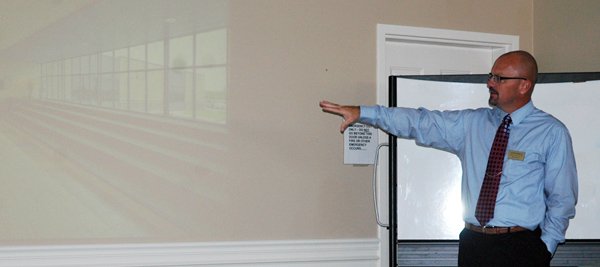 The newest school building in Basehor-Linwood USD 458, with a few finishing touches still to be added, will open Monday when classes in the district begin for the 2010-2011 term.
Basehor-Linwood Middle School will open its doors to the district's sixth- through eighth-graders in a new building at 15950 Conley Rd., south of Basehor.
During a meeting Monday of the Basehor Chamber of Commerce, Basehor-Linwood Superintendent of Schools David Howard and BLMS principal Mike Wiley said they were anxiously awaiting the arrival of the first day of classes, despite some work still to be completed, including the final coat of varnish on the school's gymnasium floor.
"There will be a few things to be finished up that we are aware of," Wiley said. "But we'll be ready. It's a safe building."
"Things are good; we just need our students."
Howard reiterated the point to the chamber audience, noting the building had passed inspections and was approved for occupancy.
Wiley said the gym, with its competition-size basketball court that converts to side-by-side courts for practices, would be used on the first day as a gathering spot for the school-opening assembly and for an all-school photo shoot. After that, he said, workers will clean the floor, then add the final coat of varnish. The gym will be closed off for a week to allow proper drying of the coat.
Physical education classes, Wiley said, would be taught in classrooms the first week until the gym is ready.
"It's just a blip," he said.
District officials expect nearly 500 students when classes begin. Wiley told the chamber that 493 students had enrolled for the coming year at the school, about 30 more than the district had been expecting at the beginning of the summer.
"Our enrollment took a nice bump," he said.
Wiley and Howard attributed some of the enrollment increase to the school's new central location.
Some students took advantage of a sneak peek of the school Thursday evening at an open house in which those attending were given the combinations to their new lockers.
Basehor-Linwood Middle School is, as Howard said, the last "big project" of the $39.9 million bond issue approved by voters in 2007.
The $24 million school features the gymnasium, science laboratories on par with those seen at the high school level, a spacious library and a first-class library.
"You will be very, very pleased with that facility," Howard said. "It is beautiful and it is a much-needed improvement for our district."