Ring master: Youth displays control during fair competition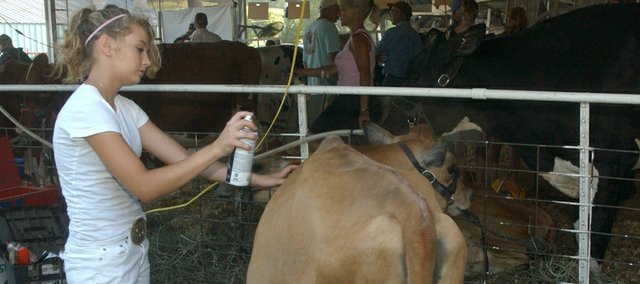 Taylor Leach was in a carefree mood Thursday evening as she helped prepare the dairy heifers she and her sisters would be taking into the show ring at the Leavenworth County Fair.
The 15-year-old Linwood girl talked shop with her father, Rob Leach, snuck a quick blast of cool air from a vacuum she was using to dress up a calf and joked about wearing her lucky necklace with its silver cow charm.
Her mood would change about an hour later when she led a calf into the ring for the county 4-H senior showmanship competition.
In the 4-H competition, contestants are judged on how well they handle and show their animals, the knowledge of the breed they relate in a quick interview with the judge and their cow's appearance.
"When I'm out there, it's pretty much just me and the judge," Taylor said. "I'm in a trance, focusing on me, my calf and the judge."
It's a focus Taylor has developed in her 12 years of showing her family's dairy cows and one that has earned her a good deal of success.
Taylor first won her age group's showmanship grand championship at the county fair when she was 10 and has won five since. She won the dairy showmanship grand championships at the Kansas State Fair the past two years and won breed championships for Holstein and Jersey before the competitions were combined.
In national competitions, Taylor won back-to-back age-group showmanship championships at the All American Jersey Show in Louisville, Ky., and has a top-10 finish at the World Dairy Expo in Madison, Wis., the largest dairy show in the world.
With that record, Taylor might be excused for taking last week's county fair competition lightly. But she and her family said that wasn't the case.
"It's definitely an adrenaline rush," she said.