Roberts honored at Fort Leavenworth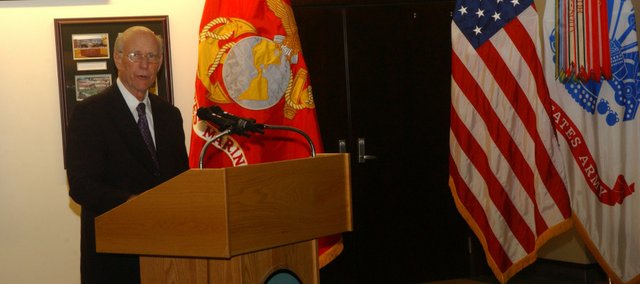 As he was formally recognized for his contribution in making Fort Leavenworth's 3-year-old Lewis and Clark Center a reality, U.S. Sen. Pat Roberts, R-Kan., shared the tribute with fellow senators, the men and women trained at the center and the soldiers they lead.
Fort Leavenworth honored Roberts on Friday for work to secure funding for the Lewis and Clark Center, home of the Army's Command and General Staff College since 2007. At a short ceremony, the Lewis and Clark Center's Trophy Lounge was renamed the Senator Pat Roberts Room.
Lt. Gen. Robert Caslen Jr., commanding general of the U.S. Army Combined Arms Center and Fort Leavenworth, introduced Roberts by recounting the story of a piece of pipe the senator was given during a 2001 tour of Bell Hall, the building the Lewis and Clark Center replaced.
The Kansas Republican said he took the piece of pipe back to Washington, D.C., carrying it to committee meetings and shaking it at key senators and staff members.
"That piece of pipe represented something very broken and very wrong," he said. "As we all know, the nation's best and brightest come through Fort Leavenworth, and visiting international officers do as well. Why on earth would we put such esteemed representation in a building where the very infrastructure was falling apart?"
Humility is a trait of the military, not Washington, Roberts said. But he said the center would not have been possible without the work and cooperation of senators on both sides of the aisle. He singled out former U.S. Sen. Ted Stevens, R-Alaska, who had chaired the Senate Appropriations Committee. Stevens died in a plane crash Aug. 9 in his home state.
The new center and its technological assets allow the Army to better train officers to protect the nation and bring the fighting men and women they lead home safely, Roberts said.
He shared the dedication of the room with those officers and their soldiers, Roberts said.
"The honor lies not with me but those who continue to ensure our nation's safety in Afghanistan, in Iraq and in deployments all over the world," he said. "They are the heroes of today and tomorrow. These brave men and women deserve the very best leadership this Army is able to give them. This Command and General Staff College now housed in this technological marvel plays a role in developing that leadership."