Insurance requirement threatens county's negotiated radio deal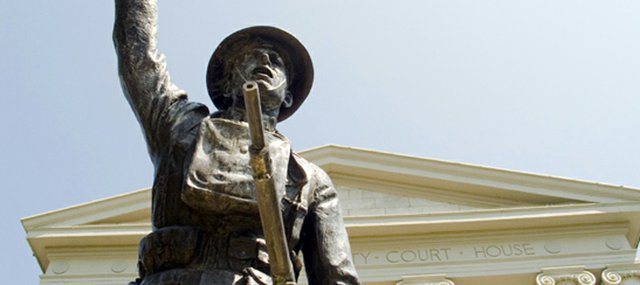 An insurance requirement could unravel Leavenworth County government's attempt to act as an intermediary in an agreement to secure digital radios for the county's 11 local fire departments.
Last month during 2011 budget discussions, county commissioners agreed to have the county act as the signatory for a deal with Motorola that would allow the purchase of the radios needed to communicate with the county's new digital emergency communication system. In agreeing to that role, commissioners insisted on no expense for the county and that all the participating fire districts, townships and cities make room in their budgets to pay for the radios.
Chuck Magaha, county emergency management director, has negotiated a $643,000 seven-year, zero-interest lease-purchase plan with Motorola for the radios. The deadline to sign the agreement is Friday.
County Administrator Heather Morgan said Tuesday that two local fire departments have indicated they would look elsewhere for radios. She talked earlier Tuesday with Motorola representatives about whether the company would offer the negotiated deal without the two department's participation and expected an answer later in the day.
Meanwhile, the county has been awaiting interlocal agreements with the local jurisdictions, committing them to paying for the radios.
The Tonganoxie City Council approved Monday Fire Chief Dave Bennett's request the city be part of the arrangement. The new digital radios would replace the department's analog base radio for the station, mobile units in trucks, hand-held units for firefighters and two pagers, he said.
With the approval, the city will pay seven lease payments of $12,167 a year and annual insurance of $337.98 for the radios.
Bennett told the council it was still not known if the deal would go through. If it didn't, the fire department would be back to "square one," he said.
Morgan told county commissioners Thursday some fire departments, including Leavenworth County Fire District No. 1, didn't like the Motorola deal. Their objections were for the included packaged insurance requirement, which would require the local departments to share the $2,600 a year premium cost, she said.
The fire departments indicated they thought they could get a better insurance deal through their own carriers, Morgan said.
"We thought the $2,600 insurance was very reasonable," she said. "Staff's position is: 'We're giving you our best and final offer. Stay or go.'"
Commissioners agreed, saying staff had spent enough time on the issue. However, they said they doubted the local departments could get a better unit price than the volume purchase Magaha negotiated.
Morgan said another savings in the arrangement was Motorola's agreement to program the radios at no cost. Programming costs about $170 per radio, she said.