Athletic Braves eager to battle for
KVL

 championship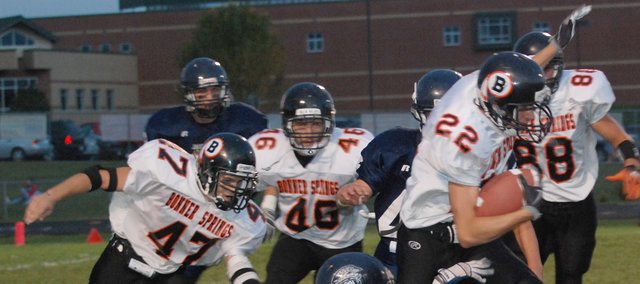 The Bonner Springs High School football team is looking to bounce back from a disappointing 3-6 campaign in 2009 with an electrifying 2010 season.
The Braves are stocked at the skill position and plan to use a blend of speed, athleticism and raw talent to contend for a Kaw Valley League championship and a berth in the Class 5A state playoffs.
All of that is enough to have coach Lew Kasselman eager for the games to begin.
"We're always looking forward to it," Kasselman said on Monday evening. "The second week of practice is always the worst week of the football season because in the first week you've got the anxiety and the third week you've got a game, so the second week is always a drag. But we're excited to get through the week, to keep getting better and we're looking forward to next week so we can get the motors revved up a bit more and then get to that light at the end of the tunnel (the first game) that we've been working toward."
Kasselman said he was pleased with the effort most of his players put forth during the summer, and he said the team's practices so far this fall have been productive. The biggest positives have come on the offensive side of the ball where quarterback Jourdaine Smallwood, running back J.J. Jackson and receivers Stevie Williams and Luke Porras all have showed playmaker ability.
"J.J. Jackson is really showing some very good things," Kasselman said. "He's got some speed and power on him. He's worked hard this summer. As a running back, we're looking for some big plays out of him."
Kasselman said Smallwood also has the ability to be a lethal runner if he's unable to find an open receiver.
Still, Smallwood should have plenty of options to choose from when it comes to receiving targets with Porras and Williams.
"Luke Porras is our slot receiver, and he can do a lot of things," Kasselman said. "We've got to get the ball in his hands a lot. He's a playmaker, and he's going to make some things happen.
"Stevie's done the same thing. He's got some big-play potential. A lot of times he's on the back side (of a play) by himself with a lot of one-on-one situations."
Ultimately, the key for the Braves to move the ball will be how quickly a young offensive line develops. Kasselman praised returning starter Austin Lucas for taking the reins as the leader of the linemen. He will start at right tackle, but the rest of the spots are up for grabs.
"We're still just putting people in there, trying to get some kids that should be in there but don't know their place yet," Kasselman said. "It's a little bit of a battle trying to get the right combination."
The Braves' defense will be young, and Kasselman said he is looking for middle linebacker Drew Hern, linebacker Aaron Rudolph and lineman Brian Callahan to emerge as defensive stoppers early in the year.
Even though Bonner Springs will be rebuilding its starting lineup from a year ago, the Braves likely won't be at a disadvantage in the race for the Kaw Valley League championship. Most other teams are in the same position this year, including defending champion Basehor-Linwood which lost 20 seniors to graduation and runner-up Turner which also graduated numerous starters.
The Braves will open the regular season with a non-league contest at 7 p.m. Friday, Sept. 3, at Topeka Seaman before beginning the KVL slate. That could allow them to tinker with the lineup a bit more without losing any ground in the league race before starting the KVL schedule Sept. 10 at home against Mill Valley.
"It could be that everyone's growing a little bit and mixing in new kids, so (the league title race) could be wide open," Kasselman said. "Whoever takes advantage of it early could get out on top of it. Who knows?"