Business relocates to Edwardsville from Wisconsin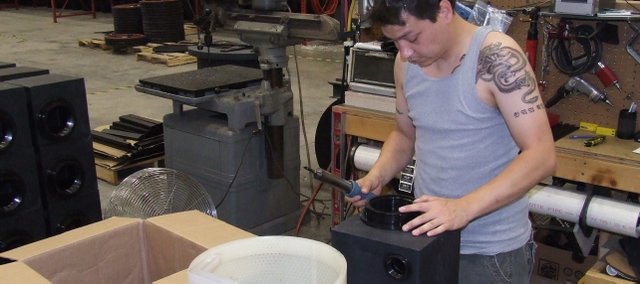 Edwardsville's newest business joining the city's growing industrial community has moved in and is busy making changes to its new home.
Schier Products, which manufactures drain line purity products for the plumbing and wastewater industries, has moved into the old Cintas building, 9500 Woodend Road in the Edwardsville Industrial Park. Owner Mike Ismert said he is looking forward to his business's new community and the added benefit of some warmer weather.
Making the move from New Berlin, Wis., Schier Products was established in 1972. Ismert purchased the company in 2002 and has turned the business into a family operation with help from sons Ben Ismert, president, Luke Ismert, sales manager, and nephew Charlie Ismert, sales manager.
Ismert said his purchase of the company was all about timing. He was with another plumbing manufacturing business for more than 30 years. He was preparing to retire when Schier Products became available.
"I decided to buy it with the goal in mind to help (the business) grow," Ismert said.
Since taking over, Ismert said Schier Products has more than doubled in orders and in employees. He said in 2002, the company had seven employees, and now, the company has 18. Three of those employees are Wyandotte County residents who were hired after the company made its move to Kansas.
When looking at where to move his business, Ismert said he was looking for the "heart of America."
His first reason for the move was the fact that by being in the middle of the country, shipping would be more centralized.
His second reason was, plain and simple, to move to a place with some warmer weather. But it's not just for his own comfort. He said not having to deal with snowy and icy roads would also making shipping easier.
It took five years of touring properties in Kansas City, Kan., Parkville, Mo., and Raytown, Mo., before finding the perfect building in Edwardsville. With 44,000 square feet and more than two acres of land, the company's new location is prepared for wherever the company is headed.
"We're growing," Ismert said. "2010 has been a good year for us."
Schier Products follows in a line of other businesses, such as the new Earp Distribution plant, that adds to the growth of the Edwardsville Industrial Park.
To get the new company into its doors, the city of Edwardsville approved a few incentives to entice the new company.
The Edwardsville City Council approved a re-plat of lots two and three of the Cintas property, commonly addressed at 9500 and 9520 Woodend Road. The re-plat combines the two lots into one, Lot A, which will allow Schier Products to expand in the future.
Ismert said Schier would eventually like to add an addition to the existing building, but under the original plat, the new addition would be required to be built with open space between the two buildings.
The council also agreed to give Schier Products a 25 percent tax abatement using Constitutional Bonds for five years for moving into and making changes to the old Cintas building. This means for the next five years, the company will only pay 75 percent of its property taxes.
"I personally think it's exciting to take an empty building and fill it," said council member Chuck Adams back in March when the tax abatement was approved.
For information about Edwardsville's newest company, go online to schierproducts.com.