Festival focused on past adds modern touches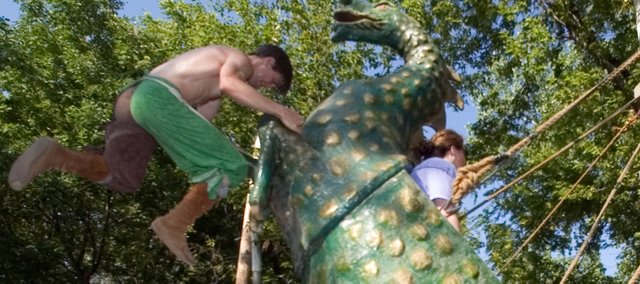 For 33 years, organizers with the Kansas City Renaissance Festival have made it their business to bring the days of yore, in entertaining fashion, to the modern world.
Now in its 34th year, the festival will place the focus on the past yet again, but this time, elements of the modern world will play a major role in bringing the festival to, as general manager Carrie Shoptaw says, "a whole new level."
"This year our focus is on our guests and on our participants," Shoptaw said, "and our theme is, 'Once upon a time there was you.' And it's all about engaging our guests in our story more than ever and not just having them watch what we're doing, but be a part of what we're doing."
The Internet and social networking sites will help to aid this theme of engagement along by allowing guests to have a more active hand in their own festival experience. The overarching theme this year will be Cinderella's ball, and actors with the Renaissance Festival will be doing all they can to make the fairy tale as much of a reality for guests throughout the day as possible. But it won't be just through gabbing with the guests — as if they had attended the ball themselves — about such gossipy tidbits as Cinderella's dress, what the prince was wearing or who was the worst dancer at the ball.
On the second weekend of the festival season, Sept. 11-12, guests will have the chance to become part of the story in a truer sense than they have before in a role-playing game called Legend Quest. To participate, guests can simply register online or the day of the festival. Registration will include choosing a character, such as a pirate or nobleman, for themselves, and a storyline. All participants will be given the same objective: Who stole the King's treasure during the ball? They will then glean clues as to the theft throughout the day from actors, and then later in the day, they will choose for themselves who was the culprit.
"It just sort of dawned on us that our market is people who like to play games and like to be a part of the story and it was like, 'duh,'" Shoptaw said of why organizers decided to bring this new addition to the festival.
That same weekend, the festival will offer up its own version of a comic book convention called Ren-Con, with comic book shops and table games like Dungeons and Dragons offered.
Shoptaw said the Legend Quest would be a huge undertaking, and so right now there is only one weekend scheduled, but she said it was her hope the event would be successful enough it could be brought back next season on a more frequent basis.
Social networking sites like Facebook and Twitter will also add to the fun of this year's festival, she said. Guests with Foursquare capability on their cell phones will have the opportunity to earn discounts on tickets and other merchandise by updating their statuses throughout the day.
Additional new elements to this year's festival will include a dog park, where pets will be allowed to run and play without a leash, and a giant hay fort castle for guests to climb, which Shoptaw said would be "super fun for everyone who is young at heart."
Elements the festival has long been known and loved for, such as turkey legs, old-world music, fortune tellers and crafters at every corner, will still be present, and Shoptaw said it was her hope that adding some modern twists would only serve to underscore what the Renaissance Festival has always been about in the first place: setting reality aside and forgetting about the world for a day.
"Hopefully (our guests) will go home feeling like they just had a little vacation and kind of wandered around a storybook all day and didn't have to worry about the rest of the world," she said. "We like them to check out … and then go home guilt-free."
The Renaissance Festival will be open 10 a.m. to 7 p.m. weekends, Labor Day and Columbus Day beginning Sept. 4 and running through Oct. 17. It is located in Bonner Springs on the grounds next to the Capitol Federal Park at Sandstone, 633 N. 130th St.
More information about ticket pricing, events and activities can be found at kcrenfest.com or by calling (913) 721-2110.