Basehor-Linwood Middle School opens to rave reviews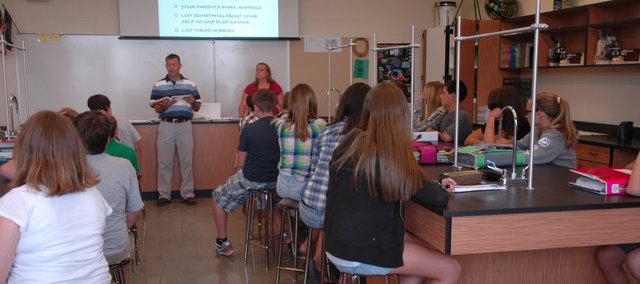 Photo Gallery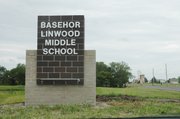 Building tour of Basehor-Linwood Middle School
The new Basehor-Linwood Middle School, 15950 Conley Rd., Basehor, opened to students for the first day of school Monday. The $18 million building was constructed using part of the $39.9 million bond issue approved by voters in 2007.
The newest school building in Basehor-Linwood USD 458 opened Monday to rave reviews, even though a few finishing touches are still to be added.
Basehor-Linwood Middle School opened its doors to the district's sixth- through eighth-graders in a new $18 million building at 15950 Conley Rd., south of Basehor.
"Students walk in the doors and their jaws drop," said Mike Wiley, BLMS principal. "The space the building provides for active learning is amazing. I have heard so many positive responses to the music rooms, art rooms, science labs, gym, library, technology available to use and even the restrooms. Our students love their new school."
Wiley said there are a number of areas still in need of attention, including the gymnasium floor, which is closed off the remainder of this week to allow for a final coat of finish to dry. Physical education classes, he said, would be taught in classrooms until the gym is ready.
Those finishing touches, though, are just a blip, he said.
"We knew that there would be punch list of items that would still need to be addressed, and there are," he said. "Our staff has taken those in stride and are focusing on all of the things that are complete. We feel very fortunate to be able to open such a beautiful building that is designed so well to meet our needs."
Some students took advantage of a sneak peek of the school Thursday evening at an open house in which those attending were given the combinations to their new lockers. But the atmosphere at BLMS took on a whole new aura when school opened for classes Monday, Wiley said.
"The first day was electric. The teachers planned and delivered an opening assembly that fed on our students' enthusiasm and set an extremely positive tone for the year," he said.
As with all new schools, there was a concern about traffic at the beginning and end of the day when students are dropped off and picked up by parents and buses.
"The design of car drop off at the front of the building and bus drop off at the back has worked well over the first two days," Wiley said. "Even with many more students being dropped off on the first day than normally will, traffic was not too bad."
Wiley told the Basehor Chamber of Commerce last week that 493 students had enrolled for the 2010-2011 year at the school, about 30 more than the district had been expecting at the beginning of the summer.
"Our enrollment took a nice bump," he said.
Wiley and David Howard, USD 458 superintendent of schools, attributed some of the enrollment increase to the school's new central location.
The school features the gymnasium, science laboratories on par with those seen at the high school level, and a spacious, first-class library.
"You will be very, very pleased with that facility," Howard said. "It is beautiful and it is a much-needed improvement for our district."
Basehor-Linwood Middle School is, as Howard said, the last "big project" of the $39.9 million bond issue approved by voters in 2007.