NASCAR

 star Bowyer receives royal treatment during visit to Lawrence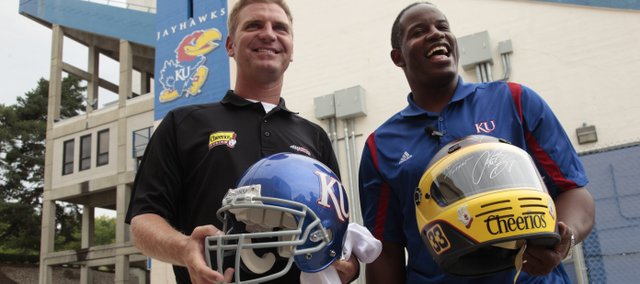 NASCAR superstar Clint Bowyer sat at the desk of Bill Self on Tuesday afternoon, and, with a big smile on his face, signed a driver's helmet for Kansas University's basketball coach.
"It's a lot more comfortable," Bowyer said, comparing Self's seat to the one in Bowyer's famed race car No. 33.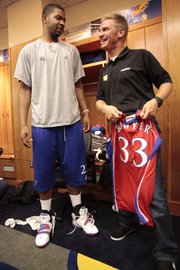 "Actually, I felt not near as safe in it as I do in my car, I can promise you that. I was waiting for him to walk in and be like, 'Who the hell is this guy? Beat it, boy,''' Bowyer added.
Self didn't get a chance to question Bowyer's presence in his office that day — he was in Kansas City at a meeting of the National Association of Basketball Coaches — but rest assured he would have been as happy to see the Emporia native as were Jayhawk football coach Turner Gill, basketball assistant coach Danny Manning, women's basketball coach Bonnie Henrickson, associate athletics director John Hadl and the many other KU staffers who met Bowyer during tours of KU's football and basketball facilities.
"I was looking forward to going into Allen Fieldhouse and seeing the basketball side of it. I'm a big basketball fan," said Bowyer, who, after meeting KU's players in the locker room, hit one of two free throw attempts on the famed fieldhouse floor.
"It's very interesting to learn how everything gets to what you see on game day," Bowyer, who attended Flint Hills Technical College after graduating from Emporia High School, added. "It's no different from our sport. On race day, there's a lot that goes into that. To be able to learn how a football program works ... what makes a football program successful and basketball program ... that was pretty cool."
Bowyer's tour started at KU's Anderson Family Football Complex, where Bowyer presented Gill a racing helmet and received a football jersey — with the No. 33 — and a football helmet in return.
Upon entering the complex, Bowyer was handed some more KU gear by an equipment manager.
"I appreciate you wearing that KU stuff. That's good," Gill said to Bowyer, a sixth-year veteran of the Sprint Car Series, who wore a Jayhawk logo on his car during the 2008 season following KU's national championship victory over Memphis.
"Keep sending it. That makes me proud," responded Bowyer, who now lives in Winston-Salem, N.C.
"It's pretty easy when they are winning. I jumped on the bandwagon a long time ago," said Bowyer, who attended some KU basketball games as a youth, but hasn't been back for a game in many years.
He promised to be on hand for a home game this season.
"A lot of my friends went to KU," Bowyer said. "When I moved to North Carolina and realized how many North Carolina fans were there, I was like, 'Boy is this going to be good. This is an opportunity to be different.'
"I've thought I was going to get thrown out of a couple bars one way or another the last couple years. We've had a lot of fun with it. I take a lot of pride in KU."
Bowyer headed to Allen Fieldhouse after inspecting the turf at Memorial Stadium.
Danny Manning presented Bowyer a No. 33 basketball jersey, then director of basketball operations Barry Hinson took over as tour guide.
Hinson showed Bowyer a 2008 NCAA title ring and then introduced Bowyer to women's hoop coach Henrickson, who informed the racer her family members were huge racing fans.
Henrickson posed for a photo with Bowyer that she planned on shipping to relatives back in Minnesota.
In the KU men's locker room, Bowyer visited with walk-on Jordan Juenemann.
Markieff Morris, who first indicated he was "a big Jeff Gordon fan" shook Bowyer's hand, as did Tyshawn Taylor, who told Bowyer, "good luck with that dangerous driving, man."
"I don't know how dangerous it is — sometimes," Bowyer responded.
The tour concluded in front of the Phog Allen statue in front of the building.
With two events left in the racing season, Bowyer ranks 12th in the 2010 Sprint Cup Standings. Each year, 12 drivers earn the right to race for the championship. Bowyer will race next on Sept. 5 in Atlanta.
He'll be back for the Price Chopper 400 on Oct. 3 at Kansas Speedway.
"I'm a Kansas kid. I wish we could race at home every week," Bowyer said. "Everybody in the garage loves coming to Kansas Speedway."