Tiblow Days kicks off weekend of activities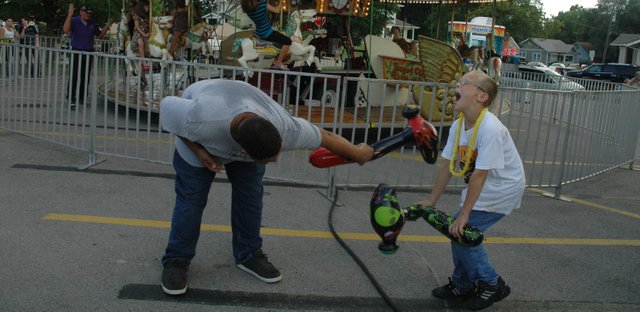 The 31st annual Tiblow Days festival is right around the corner and Bonner Springs is filled with excitement and anticipation.
The festival, which starts tonight and runs through Saturday, will include a weekend of fun with activities such as a carnival, a barbecue competition, a parade, plenty of food, craft and vendor booths, and several live concerts.
The event, which is organized by the Bonner Springs-Edwardsville Area Chamber of Commerce, has had committee members busy for the past year but work is kicking into high gear as the days leading up to the event count down.
Charlene Biles, executive vice president and executive secretary with the chamber of commerce, said Monday morning that already the chamber's office phone has been ringing off the hook with questions regarding Tiblow Days.
Marcia Ashford, chamber president, said the family-friendly three-day event should not disappoint those who join in the fun.
"It should be really exciting," she said.
The Tiblow Days schedule is as follows:
Thursday, Aug. 26
• Carnival, 5 p.m. to 11 p.m., Second and Elm streets
• Mayor's Banquet, 6 p.m. to 9 p.m., Bonner Springs High School, 100 N. McDanield
Friday, Aug. 27
• Smokin' on Oak barbeque competition registration, 8:30 a.m. to 6 p.m., Bonner Springs Community Center, 200 E. Third St.
• Craft, food and vendor booths, 5 p.m. to 11 p.m., Centennial Park, Second and Cedar streets
• Carnival, 5 p.m. to 11 p.m., Second and Elm streets
• Packet pick-up for Tiblow Trot 5-Mile Run and 2-mile walk, 6 p.m. to 7:30 p.m., Kelly Murphy Park, Second and Elm streets
• City Band concert and ice cream social, 8:30 p.m. to 9:30 p.m., Kelly Murphy Park
• Edge of Forever concert (Lynyrd Skynyrd tribute band), 8 p.m. to 9 p.m., Kelly Murphy Park
• Revelation concert (Journey tribute band), 9:30 p.m. to 10:30 p.m., Kelly Murphy Park
Saturday, Aug. 28
• Biscuits and Gravy Breakfast, 6 a.m. to 9 a.m., First Christian Church, 148 Nettleton Avenue
• Tiblow Trot 5-Mile Run and 2-Mile Walk, 7 a.m. to 9 a.m., Kelly Murphy Park
• Craft, food and vendor booths, 5 p.m. to 11 p.m., Centennial Park
• Carnival, 9 a.m. to 11 p.m., Second and Elm streets
• Parade, 9:30 a.m. to 11:30 a.m., beginning at Nettleton and Morse and proceeding south to Oak Street
• Car Show, 11 a.m. to 2 p.m., Oak Street
• Parade trophies and awards, 11:30 a.m., Centennial Park
• Smokin' on Oak barbecue competition judging, 11:30 a.m., Bonner Springs Community Center
• Bonner Springs High School cheerleaders and dancers, 12 p.m. to 1 p.m., Centennial Park
• Sarah's Studio of Dance, 1 p.m. to 2 p.m., Centennial Park
• Legacy School of Dance, 2 p.m. to 3 p.m., Centennial Park
• Barbecue competition awards, 3:30 p.m., Bonner Springs Community Center
• Live remote broadcast with "Moose" from 98.9 The Rock, 5 p.m. to 7 p.m., Centennial Park
• Siva Addiction concert, 6:30 p.m. to 7:30 p.m., Centennial Park
• Crooked X concert, 8 p.m. to 9 p.m., Centennial Park
• Rev Theory concert, 9:30 p.m. to 10:30 p.m., Centennial Park
• Fireworks show, following last concert