Barn razing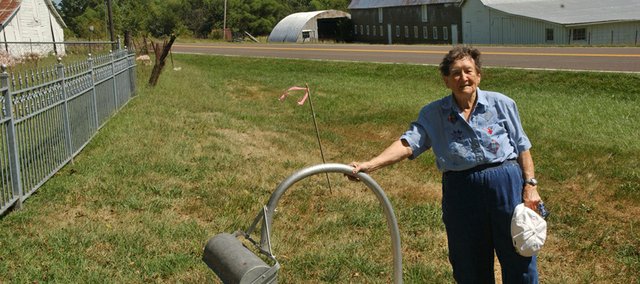 For the greater part of a century, the Doege family's two barns have framed Tonganoxie Road as it crosses Stranger Creek to start winding southwest to Tonganoxie.
With its tile lower story, gambrel roof and wooden silo, the larger of the two barns is the road's east bookend. Vacant now of any contemporary uses save a few bales of hay in the loft, the rows of stanchions, a dust-covered compressor and milking utensils stacked on shelves as they were left after a last milking decades ago hint at the structure's original purpose as a dairy barn.
As she opened and closed gates or stooped to pick up a fallen door blocking an aisle while giving a tour of the farm and barn this past week, 92-year-old Anna Mary Landauer filled the barn's emptiness with stories.
"Oh my, my folks always liked this barn," she said. "Mom and Dad milked 24 to 36 cows by hand. We didn't get a milking machine until after the war.
"When we were little, they would give us warm milk and have us lie down on blankets while they finished milking. The loft was our roller-skating rink until they put hay in it during the summer."
Come next year, the longstanding landscape will change.
The county, with money from the Kansas Department of Transportation, is replacing two bridges near the barns. Stakes in the ditches already foreshadow what is to come.
Leavenworth County public works director Mike Spickelmier told county commissioners last spring KDOT turned down the county's request for narrower approaches to the bridge to spare the barns. The west barn will have to be razed and the original part of the east barn with the old scale house will have to be removed.
Farmstead's early years
Landauer was 2 when her father Albert Doege built the barn in 1920. She doesn't remember its construction, but she knows the story.
"It was built of Dickey tile," she said. "It was supposed to be shipped to Tonganoxie, but by accident the Union Pacific shipped to Eudora. It would cost him more freight to ship it to Tonganoxie. He took two teams of wagons, and they went down there to get it. But there was a bridge across that (Kansas) river with no railings on it. When they got ready to come home at night, those horses wouldn't come so he (her father) had to lead the horses across that bridge. Then he had to back and get the other one because the other man wouldn't do that.
"If those horses would have got scared from something, everybody would have went in the river."
Her father designed the barn to save labor in the dairy, Landauer said. Hay could be thrown down a center opening from the loft to feed cows in the milking stanchions. Similarly, there was access to the silo so that silage could be moved to the barn without going outside.
The dairy barn was raised on what was then a dirt road her father maintained from the creek to Tonganoxie, smoothing out wagon ruts left in mud with a horse-drawn drag, Landauer said.
That early road crossed the creek via an iron-trestle, wooden-decked bridge, Landauer said. Her grandfather took advantage of the location to put scales in a small barn east of the road. Part of that earlier structure survives as the southern end of the dairy barn, and an empty scale pit and balance arm reveal that part of the barn's older use.
"They would back the wagons on the scales and then come back when they were unloaded," she said. "Of course, he'd charge them a little for it."
To the Sunflower State
An enterprising man, her German-born grandfather came to Kansas sometime in the 1860s or early 1870s after trading his St. Louis tack and shoe shop for a farm on Stranger Creek. When he arrived, he built a general store and post office with living quarters above, had an orchid and earned extra income traveling with his sons during harvest with a threshing machine.
He also knew hardship, Landauer said. He was widowed with four children when the general store burned sometime in the late 1880s, she said.
"That's when he built the center part of the barn on the west side of the road," Landauer said. "He lived there with his four children until a new house was built.
"When dad bought the homestead he built the two wings on it for his horses. He kept his workhorses in the north wing and his riding and buggy horses in the south wing. Those were pretty black horses."
Like her grandfather, Albert found ways to supplement the family's farm income, Landauer said. He maintained the road and kept a farm machinery salvage yard at the homestead.
Albert died in 1929, leaving behind Landauer, sons Albert Joseph and Carl and a pregnant wife desperately sick, first with the same pneumonia that took her husband's life and later a case of the mumps.
"My sister Alberta was born three months after my dad died," she said. "The doctor told my mother, 'You can have this baby, but it will never be a healthy child.' She's still walking today."
Matriarch of Stranger Valley
The woman Landauer said she once heard called "the matriarch of Stranger Valley," was widowed the same year as the Great Depression. It was now up to her alone to run the farm and manage the hired hands who were part of the day-to-day life on the farm even while her father was alive. Some were good, but others didn't like taking orders from a woman or shied away from hard work.
"There was one man who saw my uncles come in with the silage wagon; we didn't want him to see it, but he did," Landauer said. "He told Mom, he didn't think he could work because his back was so bad. When we got the silage in, he said, 'I'm feeling better. I guess I can go to work.' Mom told him, 'That's all right. Collect your check and leave.'"
To augment the milk sold to the Franklin Ice Cream Co. in Tonganoxie, her mother showed the same enterprising spirit as her husband and father-in-law, although she wanted nothing to do with the farm equipment salvage business she soon sold for scrap.
Each week, the family prepared such things as butter, cottage cheese, baked goods and chickens to take to Kansas City, Kan., Landauer said.
"Every Saturday, we would load up the Overland and we'd go peddle them," she said. "Mom didn't go to a market. She went door to door.
"We made apple cider one year to pay the taxes."
Her mother beat the odds, Landauer said, and managed to keep the farm through the Depression in contrast to the family's neighbors.
"All the rest of them lost their farms and moved away," she said. "She managed it all herself, and she used to tell us kids when we would get upset about different things we'd see other kids have, 'Don't begrudge anybody else. Let's love one another and work together. I might not get you what you want, but we'll get what we need.'"
More trying times
In 1939 as the Depression was coming to an end, her mother told her the family would have a special Christmas, Landauer said. The basement was filled with canned goods, the house's walls were freshly papered and everyone was healthy.
Then two weeks before Christmas, the house caught fire. Landauer's brother Albert Joseph was badly burned and was taken to Tonganoxie for a lengthy recovery.
"We lived in the tenant house until we moved to the basement of the current house in December 1940," she said. "It was a four-room tenant house. You could wake up in the morning and write your name in the snow. That's how tight it was."
Her mother didn't want her working in the barn, Landauer said. But that didn't mean she wasn't expected to help. Starting at an early elementary school age, she was expected to make the beds daily, prepare breakfast in the morning and supper in the evening, wash the dishes, clean the house and tend the garden, she said.
Those same chores were expected of her once she started working at the Franklin Ice Cream Co. in Tonganoxie after graduating from Tonganoxie High School in 1935 and completing a year of business college.
"I pushed a pencil in everything I did," she said. "I made $9.50 a week for six-and-half days work.
"The manager told me, 'You don't go with anyone who works here, and when you're married you don't have a job.'"
She left the company as office manager in 1943 when she married Joe Landauer and moved to Basehor, she said.
When her brother Albert Joseph, who died in March, returned to the farm from a World War II stint in the Coast Guard, he told his mother it was time to give up the hard work of dairying. The big barn was then used for family's sheep-raising operations.
The structures have been hosts to a rich history and are definite landmarks in rural Leavenworth County. They're structures Landauer knows will be altered considerably come next year.
"They're going to tear away part of the barn and the other one will have to go," Landauer said. "We don't like that but can't do anything about it."