Area karate students earn medals at world championships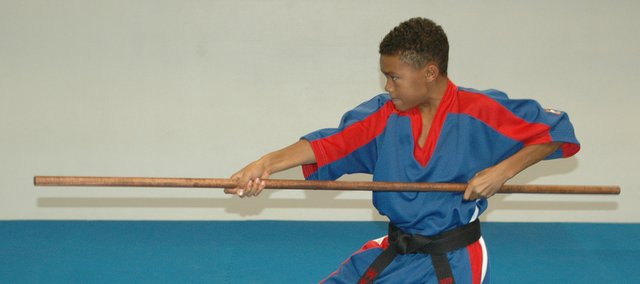 This fall 10 members of American Sport Karate took their expertise to the world-level competition in Portugal.
Students from Shawnee, Olathe, Bonner Springs, Lenexa and Basehor recently hit the ring against some of the most skilled martial artists in the world at the World Kickboxing Council's World Championships.
David Clifton, head instructor, said the school is no stranger to world competitions. Its students traveled to Ireland in 2009 for the same competition.
"We've been very blessed to have current and former students compete nationally on many occasions," he said.
The school, located at 83rd Street and Kansas Highway 7, began operations in 1997 in Bonner Springs, but moved to Shawnee two years ago.
The school trains students ages 3 to 60 in a number of martial art styles, Clifton said.
"Our competitive teams are mostly younger people," he said. "They seem to enjoy competing the most."
Clifton's students practice year-round, but competitions come to the forefront in March during the regional competition in Kansas City. From there, the top four qualifiers in each category move onto the national competition in Detroit in June.
Kimberly Harrison, Bonner Springs, said the practice schedule intensifies after regionals.
"We typically train four to five days a week on top of normal classes," she said. "We also get a lot of one-on-one work during that time."
Olivia Shurtleff, Shawnee, said preparations leading up to the competitions could be difficult.
"When you get there (to the competition) you feel more pressure," she said. "You've learned the forms and had extra training, you put everything together."
The top three competitors in each category at nationals move on to the world championships. The gold medal winner from the previous year is automatically invited back to compete.

Eric Scott Jr., Bonner Springs, said he pushed himself harder when preparing for the world competition.
"It's fun, but it felt a lot harder," he said. "It's the biggest competition I've ever competed in."
Clifton said funding for the trips to both national and world championships was up to students.
"We did a ton of fundraising last year. We raised $7,000 for the team," he said. "It's walking around, it becomes time consuming when you are also training. There's a very big balance act."
Olivia raised $1,000 from a garage sale to go toward her trip. Other students took part-time jobs to raise money.
The trip lasted eight days including travel, with competition from Oct. 29 to Nov. 2.
The team took part in registration then jumped right into eliminations. More than 1,000 competitors from England, Canada and other countries participated in the four-day competition.
The top four competitors from the elimination rounds compete on the last day of the championships.
The competition takes place in a hotel ballroom with seven or eight rings running at one time.
"It's really scary when you walk in," Olivia said. "I expected more people in some divisions, but some were only nine people. It's really hectic with all the rings going at the same time."
On the last day of competition, teams exchange shirts, uniforms and other symbols of friendship, said Brady Rolig, Shawnee.
"Some people just ask you to sign their shirts and make friendships," he said.
In all, the team took home four gold medals, five silver medals and 11 bronze medals from the competition. Nine out of the 10 students that went to Portugal left with a medal.
"It's almost unheard of to have that many medalists," Clifton said. "If you're a world champion at anything it takes a lot of work to get there. Winning a state title in high school is a very, very big deal, and it should be. Most of these kids are national champs in one division or another."
Harrison, who won the four gold medals, said the students learn a lot from competition, even if it's just in the school's facilities.
"If you're willing to work hard, you can achieve anything," she said. "If you have the resources, you can do it."
2010 World Championship team
• Kimberly Harrison: Gold – Korean Forms, Traditional Weapons, Freestyle Forms and Extreme Forms; Silver – Hard Style Forms; Bronze – Team Sparring
• Karrie Simms: Bronze – Traditional Weapons
• Katherine Simms: Bronze – Traditional Weapons
• Eric Scott Jr.: Silver – Korean Forms and Traditional Weapons; Bronze – Point Sparring
• Gabbi Gerdes: Bronze – Point Sparring
• Nikki Gerdes: Bronze – Korean Forms and Freestyle Forms
• Olivia Shurtleff: Silver – Freestyle Forms and Extreme Forms
• Cullen Jordan: Bronze – Traditional Weapons, Hard Style Forms and Korean Forms
• Maurice Loridon: Bronze – Traditional Weapons
• Brady Rolig: Fifth place – Traditional Weapons