For Bobcat boys, it's state or bust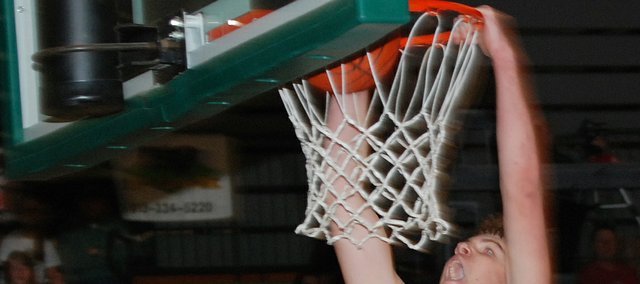 Motivation runs amok on the Basehor-Linwood basketball court this season.
Players have multiple levels of motivation. Some are eager to erase the feeling of losing big games to end the football season. All, however, are eager to return to state after falling in the substate finals last year.
The BLHS boys basketball team's goal is to return to the Class 4A state tournament in Salina for the first time since winning 2009 state title.
"Overall, our goal is to get to state and see what happens once we get there," coach Mike McBride said. "It seems like there is a lot of emotion in getting there. If we get to state, then you see if things work out right and find out if you have enough talent to win state."
McBride said being the defending champions last season was different. In what some championship teams can term a carryover effect from a championship year, there are things he would have done differently last year.
Some things he may have questioned in previous years, but he didn't last season.
At times, he said the team lacked the sense of urgency necessary to win.
There is urgency and multiple levels of motivation this season. A lot of the current Bobcats played on a football team that went undefeated in the regular season and lost in the first round of the playoffs this fall.
Juniors Ryan and Colin Murphy were part of that team, and McBride said they have played with more focus in practice. McBride said if the Murphys play with the intensity they have shown in practice, then they could give opposing teams problems.
"I think the way football season ended, it made them angry. It's a different attitude from what I have seen before," McBride said.
He said players have worked hard in the offseason to improve their play on the court.
Ryan O'Donnell, a 6-foot-4 guard, has improved his shooting since last year and gained more confidence.
Evan Theno, a 5-foot-7 guard, has improved his strength in the offseason and his already lethal 3-point shot has improved with it.
Forward Austin Stubbs also has shown improvement. Forward Ben Johnson also returns for his sophomore season and has shown good footwork early in the season.
In addition, guards Steyr Stubenrauch and Austin Laing — a transfer from Bonner Springs — should mix into the playing rotation.
McBride said he believes he has a balanced lineup that can be dangerous both inside and on the perimeter.
"I think people are all focused on the Murphy twins, but I think you need to understand they are part of the puzzle and the other kids are pretty dang good as well," McBride said. "I would say over the last three years, this team is equally as balanced as we have had. Out of our top seven or eight players, any of them can put up 10 or 15 points a game."
With that type of balance, the Bobcats are focused on returning to Salina and repeating as Kaw Valley League champions.
In addition to the league slate, the Bobcats also will play in the Emporia Invitational next week and then in the Bobcat Invitational in January.
Sumner Academy, a team the Bobcats have developed a rivalry with in recent seasons, is not on the schedule.