Bonner Springs boys return talent, experience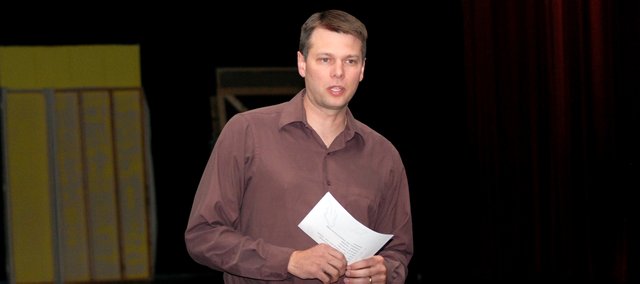 As excited as the Bonner Springs High School boys basketball players are to play their first game, Braves coach Andy Price is even more anxious.
He's been down this road before. Specifically, he opened five different seasons as the Braves' coach during his run as the program leader from the 2001-2002 season to the 2005-2006 campaign.
After a four-year hiatus, Price — once again a first-year coach at BSHS — can't wait for the games to begin.
"There's always that nervous feeling that you haven't got everything done before the first game, but nobody's got everything done," he said. "We know we have a long ways to go in the right direction.
"One thing that's been incredibly helpful is my assistants. I think this is probably the best coaching staff we've ever had, especially when we have one more coach than we've ever had."
The assistants include junior varsity coach Bill Downing, freshman coach Andrew Addington and varsity assistant Dan Streit. Streit was Price's top assistant the first time around. The program raised funds this summer to bring Streit back on staff as an assistant who can focus fully on the varsity program and assist Price with practice plans.
The staff inherited an experienced bunch to work with. Nine letter winners return, as well as six players who started at some point last year.
"I feel like we have a solid starting lineup and a lot of depth that's good enough that among our top 10 to 12 players there's not a big difference," Price said. "That's a good thing because when we do scrimmages we get good competition, and I think that anybody can step into our lineup and be OK."
Price said he expects the Braves to primarily play seven or eight players.
B.J. Watson is expected to start at point guard with Jourdaine Smallwood backing him up. Kyle Day and Juan Pichardo will share duties at shooting guard. J.J. Jackson — the Braves' leader in assists the past two seasons — will be the team's starting small forward. Steve Williams, Brett Steuart and Cameron Callahan will handle most of the minutes in the post while Nick Carver and Joseph Dooley will play key minutes off the bench.
Damon Franklin is another player Price said he expects to compete for varsity minutes, while transfer student Ivory Elijah will be eligible during the second semester and could make an impact. Jordan Jackson, a freshman, could work his way onto the varsity squad later in the year.
The Braves open the season at 7:30 p.m. Friday at Piper. Price said he isn't exactly sure what to expect from the Pirates because a game tape of last year's meeting wasn't available.
"I'm a little bit nervous how they'll defend us. We need to be ready for zone or man-to-man, whatever the possibility may be," Price said. "We just want to be as ready as we can for any possible defense they'll have for us. We don't know a lot about them, but I guess the good news is they don't know a lot about us either.
FOLLOW THE BRAVES ONLINE
Bonner Springs High School will be running a live stream of its home basketball games through the school's website. Fans can view the live stream by going to bball.usd204.net.