Holiday open house marks opening of business' new showroom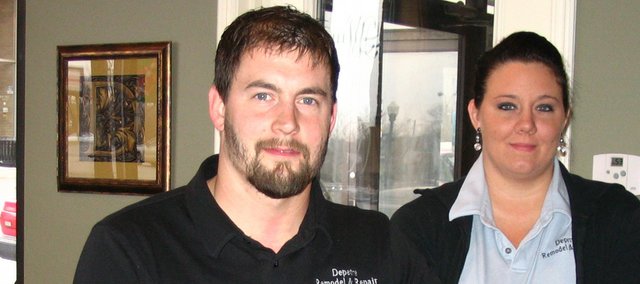 Remodeling work has long been in Jon Depetre's blood, having helped his father with his business since the age of 12.
And now, after many years of working without a base of operations, Jon has a new showroom in downtown Bonner Springs to prove just how far the Depetre name has come.
Depetre Remodel and Repair, 129 Oak St., which Jon owns with his wife, Brittany Depetre, technically has been open by appointment since August of this year. But the couple is now putting the finishing touches on a showroom that includes a stone fireplace, living room, bar top and artful cabinetry that the two say truly exhibits the kind of changes they can inspire in any home.

"It's just proof of what we do, and helps show quality of (our) work, definitely," Brittany Depetre said.
Depetre Remodel and Repair was originally known as Depetre Tile and Floor Covering and was started by Jon's father, Pete Depetre, in the late '70s. For many years it was run out of the space now occupied by the Red Fortune Chinese Restaurant, 117 Oak St., until a fire broke out in 1995, burning down the original location of the Red Fortune — just next door to Depetre Tile and Floor Covering.
Jon Depetre said after the fire, Red Fortune moved into the building occupied by his dad's business, and Pete Depetre began running the business from home. In 2005, he handed ownership over to his son.
Though the business still specializes in tile work, Jon and Brittany Depetre have expanded it to include remodeling and repair work of basements, roofing and siding, making a new name necessary. Business has been good for the two. They say they have expanded their clientele based solely on word-of-mouth advertising, and one basement they worked on in Overland Park was even featured on the show "Bang for Your Buck" on HGTV in April of this year.
One reason for their success might be the pricing Jon and Brittany Depetre offer. Brittany said no budget is too small, offering support of this fact by saying she and her husband are currently working on an $8,000 basement remodel project that no other contractors would take on for less than $20,000.
"We are very competitive. We like to price match as best as we can. We work with all budgets and try to make everything possible for somebody," Brittany Depetre said.
This is the first time since Jon and Brittany Depetre took over the business that it has had a physical space outside of their home. But Brittany Depetre said it was time.
"The business has gotten bigger and our clients started wanting to meet with us, so opening the store gave us an opportunity to meet with our clientele," Brittany Depetre said.
Still, turning the envisioned showroom into reality has been a long process. The two say they have been working on it since moving into the building about a year ago, and are still not entirely done, with a few finishing touches, like a storefront sign, left to complete.
They are now ready to show the business off, however, with a holiday open house beginning at 6 p.m. Saturday, Dec. 4. It will feature appetizers, drinks and a video display of the projects the Depetres have worked on. The public is invited, but an RSVP to depetreinc@yahoo.com prior to the event is requested.
For more information, contact Depetre at (913) 745-8600.