Gowns of weddings past come to life at museum

Photo Gallery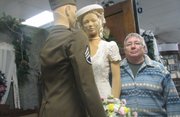 Vintage wedding dresses at Basehor Historical Museum
The Basehor Historical Museum's "Wedding Wonderland" exhibit, on display through the end of December, showcases Kansas wedding dresses from throughout the last two centuries.
The wedding of Earl Theis and Eugenia Snyder was a modest affair that took place amid wartime rationing, but that didn't stop Eugenia from keeping her knee-length lace wedding dress for the rest of her life.
Thanks to her care, the scene from their 1944 wedding in her family's Topeka living room has been re-created in a corner of the Basehor Historical Museum, complete with her dress and her husband's Army uniform. They both passed away during the 1990s.
"Evidently my mother must have thought a lot of the dress to have kept it," said Mary Ellen Ballard, Earl and Eugenia's daughter.
The scene is part of the "Wedding Wonderland" Christmas exhibit, a display of vintage wedding dresses set among holiday-themed scenes at the museum, 2812 N. 155th St. The exhibit, which will be on display through the end of December, is the most ambitious one yet constructed at the museum, director Carla Crawford said.
"This is probably the most elaborate one we've attempted," Crawford said. "It was rather challenging at times, too."
Crawford said she and some volunteers spent about three weeks working about 10 hours a day putting together the exhibit, which spans the whole museum. The more detailed scenes include one with mannequins dressed as an 1820s just-married couple riding in a carriage through snow, as well as the re-creation of Ballard's parents' living-room nuptials.
Ballard, a museum volunteer, unearthed her parents' wedding-day clothes from storage for the first time in years to offer them for the exhibit.
The scene at the museum changes a few details: It was June when Ballard's father came back from serving in Europe during World War II and married Eugenia upon his return, but the museum's scene includes a wreath and a Christmas tree, in keeping with the exhibit's theme. And Eugenia's bouquet was not a professionally designed floral arrangement, but rather some flowers the family had picked from their garden that day.
"It wasn't like you had lots of money to spend on a big wedding" at that time, Ballard said.
But much of the scene, including furniture dating to that era, emulates photos Ballard has from the wedding day. Ballard said most war-era wedding photos she'd seen showed brides in more simple, short dresses like the one her mother wore, rather than long, elaborate gowns.
The most striking difference between the historic dresses in the exhibit and today's wedding dresses, Crawford said, is that the dresses of years past were much more modest. She pointed out one high-collared dress from 1886 that was high on detail but probably low on comfort, weighing almost 10 pounds.
"If you're getting married in June, when most brides got married, you were baking," Crawford said.
Crawford said the exhibit had drawn about 125 visitors in the three weeks since it opened, a higher-than-usual number for the museum.
"The numbers have exceeded our expectations so far," she said.
Visitors can enjoy the exhibit with some added holiday flair if they come to the museum's Christmas Open House, which takes place from 9 a.m. to 5 p.m. Saturday, Dec. 11. The event will include refreshments, Christmas carolers and carriage rides, as well as a visit from Santa Claus from 2-4 p.m.
Next door at the Basehor VFW Post, 2805 N. 155th St., the museum will also sponsor a mother-daughter-grandmother Christmas tea from 2-4 p.m. on the same day. For a cost of $10 per person, attendees can learn about historical tea etiquette and equipment and sample desserts, soups and teas. The tea event is also sponsored by Madame Hatter's Tea Room in Bonner Springs. Crawford said reservations would be required because of a lack of space. To reserve a spot, people can mail a reservation, with how many people will attend, to P.O. Box 76, Basehor KS 66007, or they can stop by the museum and fill out a form.
For the rest of December, the museum's hours of operation will also be extended.
"A lot of people say they want to come, but they usually have to work during the day, so we're trying to provide some extra time for people to stop in and see the exhibit," Crawford said.
The museum will add hours on Monday and Tuesday evenings and Saturday afternoons. Through December, the museum will now be open 6-8 p.m. on Mondays, 9 a.m.-noon and 6-8 p.m. on Tuesdays, 1-4 p.m. on Thursdays and 9 a.m.-5 p.m. on Saturdays.
Admission to the museum is free, but donations are welcome.
The museum borrowed many of the dresses from the Leavenworth County Historical Society. Crawford said she wanted to thank Joanie Soukup with LCHS, as well as all the volunteers who help with the Basehor museum's exhibits.