Intensity 'phenomenal' as
BLHS

 girls eye another trip to state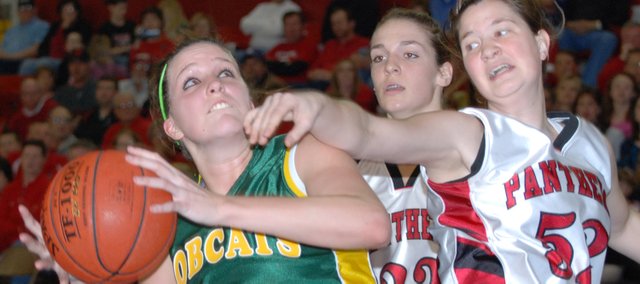 Coach Noah Simpson has only raised his voice once in practice during the first two weeks of the season.
There hasn't been much reason to yell.
"We have had two good weeks of practice. The intensity is phenomenal and the kids have come out and played hard," the BLHS girls basketball coach said. "The attitude is great and the focus is there. This is probably the most focused team we have had."
The team's focus comes from having played in the Class 4A state tournament last season, being ranked No. 3 in the Kansas Basketball Coaches Association preseason poll, and wanting to return to state again this year in Salina.
The Bobcats return six players from last year.
"We have kids that went through and experienced that success and had a bad taste from losing," Simpson said. "They are glad for the state experience, but we have kids that want to get back and win a state championship."
Perhaps no player embodies this like Megan Bergstrom. She is the Bobcats' top returning post player. She earned postseason recognition last season and has dedicated countless hours to basketball in the offseason.
During the summer, she played or practiced six or seven days each week.
"She was practicing or in a game every day, which is amazing," Simpson said. "She is taking over where she left off last year. She had a huge state tournament game. She is playing at the same level. That has been good to see. I am looking for this to be a huge year for her."
Point guard Courtney Poe also returns after serving as the Bobcats' floor general last year.
"She is handling the ball extremely well," Simpson said. "She is being a floor leader and shooting the ball well, too."
Simpson said he is pleased with the depth that he has at the guard position. Amanda O'Bryan, Shelby Equels, Jamie Johnson and Macyn Sanders figure to share time at guard. All are solid defenders who handle the ball well.
Cara McCarty, a forward, is expected to start in the post.
"There are times I watch in practice and look at coach (Bruce) Courtney and say, 'Did she really do that?' She is so athletic," Simpson said. "She will be a leader on defense. There is a good chance she will break the school record in steals this year."
Coupled with the returning nucleus of players is Bailey Hooker, a transfer from Grandview (Mo.) High School. At 6-foot-2, she should provide another inside presence for the Bobcats.
"She gives us a different look," Simpson said. "She is learning the system and how we go about our business. It is a plus to have a transfer move in. She is a great kid, smart, focused on what she wants, and she goes after it."
Simpson likes the depth on the team.
"The great thing is we are it a situation with eight kids that can start for us at one time," he said.
Early in the season, Simpson plans to play an eight-man rotation.
Basehor-Linwood opened the season on Tuesday at St. Teresa's (Mo.) Academy.
"I tell them each day (being ranked) No. 3 doesn't matter at the beginning; it is No.1 at the end of the year," Simpson said. "It is nice to get recognition for our school and community and to see people know Basehor-Linwood basketball is on the rise, but it doesn't mean much until the end of the year."