Strong summer propels
BSHS

 girls into 2010-2011 season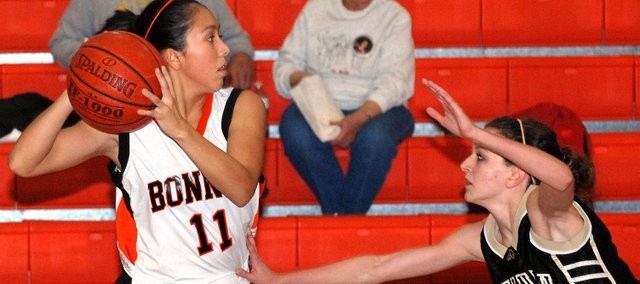 Inconsistency was a common theme for the Bonner Springs girls basketball team during the 2009-2010 season.
The Braves played well in spurts, outplaying some of the area's top teams for a quarter or a half, but they struggled to put complete performances together. The result was a 6-15 record and a first-round exit from the Class 5A substate tournament.
BSHS coach Clay Oakes understood that was the risk of playing so many young players in key roles. The reward, however, was expected to come this year when those young players — now with a full year or more of significant varsity experience — returned to the court as seasoned veterans.
"More maturity," Oakes said of the difference he's noticed between this year's squad and last year's club. "We were so young last year and playing a lot of freshmen and sophomores. They're a year older now, and the maturity level is much improved. Our guards have gotten to a position where they're really shooting the ball well. Also, now we're a solid eight deep so we won't drop off at all no matter which five are on the court."
The Braves didn't wait until winter practices began to cultivate that on-court maturity. They began their preparation for the season by committing to basketball during the summer.
They played 34 games and posted a 25-9 record. That included a 9-2 showing in the Branson (Mo.) Shootout and a third-place finish at the West Kansas City MAYB Tournament.
Now, Oakes and the Braves hope to reap the benefits of their offseason work this winter when they will compete for a Kaw Valley League championship and try to earn a berth in the Class 4A state tournament.
Oakes said expectations are higher because the team is more experienced, but also because the Braves spent the summer learning how to win games.
"I think that's a big deal," he said. "It was developing a habit of winning and having the confidence to win. Last year we were so young and we had to start off with the Metro Prep which is a very tough tournament, and to put young girls in that position a lot of times their confidence is hurt. Over the summer, we definitely got that back.
"They know how to win now, and that's a big deal. Now they're going out with the attitude that they can't be beat and they're going to win, and that's huge for us."
They will run the same up-tempo offense as in previous seasons, and they plan to use their defense to create scoring opportunities.
Junior Yessenia Hernandez will run the show as the team's starting point guard. She earned All-Kaw Valley League honorable mention status last year and was lethal at times in fast-break situations. Senior Erica Smith — a three-year starter — will start alongside Hernandez on the wing and should be one of the team's top 3-point threats. Meanwhile, sophomore Anna Deegan is expected to be an inside-out threat as the starting three-guard. Juniors Emily Wilson and Erica Wilson will start in the post for the Braves.
In addition, sophomore Haley Hoffine will serve as the team's backup point guard, sophomore Cassady Holloway will be a reserve guard and junior Erin Marx will see significant minutes in the post.
"This is the best team I've been associated with since I've been a part of the program (at BSHS)," Oakes said. "This is definitely the best defensive team we've had. The guards pressure well, and we've got good depth. The key is going to be how our post players defend inside."
Oakes said he expects Basehor-Linwood to be the favorite to win the league title this year, and he said Lansing and Mill Valley should be in contention as well. At the same time, Oakes said he expects the Braves to be in the mix.
BSHS opens its season at 6 p.m. Friday at Piper.
"They graduated a lot of seniors last year, but it seems like they always have some girls who step up," Oakes said. "We saw them during summer league and we had success against them, so we have that feather in our hat as far as what we've been seeing from them."