Young artist's work selected for award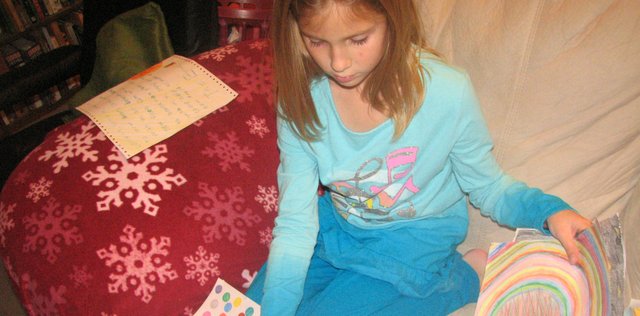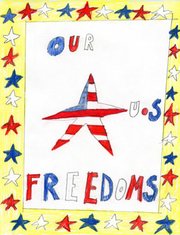 Stacks of paper covered with drawings sit on tables, corners and floors in the Roberts home, making it clear that an artist lives here.
But Jaedyn Roberts, a second-grader at Glenwood Ridge Elementary School, now has even more proof of her artistic qualities. Last month she was named one of 13 winners from around the United States and overseas in the GovDoc Kids Group Constitution Day Poster Contest.
"I can't even keep track of how much art I've made," Jaedyn said.
But she could recall, more than two months since she'd looked at it, exactly what she included in her poster design for the contest, in which students were asked to create a poster representing the freedoms given in the U.S. Constitution.
"It had a yellow background, and it had a star with the American flag in it," Jaedyn said. "And it said, "Our U.S. Freedoms," in red, white and blue."
The contest received more than 9,000 entries from students in 46 states and Department of Defense schools in Japan, Italy and South Korea. Of the 13 winners, Jaedyn was the second-youngest.
On Saturday, Jaedyn and two other winners from the Kansas City area will go to the National Archives in Kansas City, Mo., for an awards ceremony where Congressman Emanuel Cleaver will speak.
Jaedyn drew her poster after her teacher, Andrea Bezdek, had her students design posters for the contest to conclude a unit about the Constitution in September.
"I think it really helped them summarize what they had learned and show it in a creative way, by basically advertising on a poster what the Constitution means and why it's important," Bezdek said.
Artistic success is not out of the ordinary for Jaedyn, Bezdek said.
"She is a good artist, and she has very creative ideas," Bezdek said. "She's one who usually takes her time on things to do a nice job."
Kellie Roberts, Jaedyn's mother, said she frequently found pieces of art, stories and poems of Jaedyn's creation lying around the house, and she tried her best to organize them to keep around.
"She's got stacks of it downstairs. I've got stacks of it in corners. I've got stacks of it in books," Kellie Roberts said.
Jaedyn said she wasn't sure why the contest judges enjoyed her poster, but she had a theory.
"I think the yellow background made it pop," Jaedyn said.
The entries were judged based on their originality, their colorfulness and their relation to the Constitution, said Martha Childers, the government documents librarian for the Johnson County Library and a member of the GovDoc Kids organization. GovDoc Kids encourages children from kindergarten through high school to use government documents, she said.
The group consists of government document librarians from the Johnson County Library, the Kansas City National Archives, the Eisenhower Presidential Library in Abilene and Muskingum University in Ohio.
For her finish in the contest, Jaedyn will win two large prints of her poster, free art lessons at the Nelson-Atkins Museum of Art in Kansas City and other prizes from the Johnson County Library and other organizations.
Jaedyn said she frequently just grabs a piece of paper and begins drawing or writing whatever comes to her mind, with no particular idea of how the project will end up.
"I guess it just comes to me," she said.
Along with her bursts of creativity at home, she participates in acrobatics, ballet, karate and Girl Scouts.
She said she aims to be an artist when she grows up — as well as a ballerina in the Royal Ballet in London, and perhaps a chef.
"I'm going to go to Paris and paint the Eiffel Tower," she said. "And I'm going to go all over the world and paint monuments."