Basehor-Linwood girls rally past Tonganoxie
Shooting woes plague Bobcats early in 31-28 victory
The Basehor-Linwood girls are playing gritty basketball early in the season, winning two games this week by a combined four points.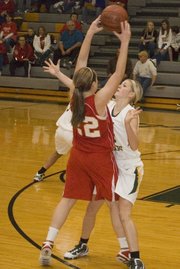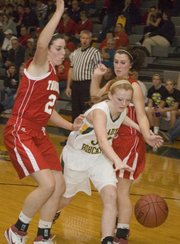 Following a 38-37 victory over St. Theresa's on Tuesday, the Bobcats defeated Tonganoxie on Friday at home, 31-28.
The Bobcats had to rally from a small deficit to win the game.
Tonganoxie led 9-7 at halftime and led throughout the first half.
Neither team scored much in the first half. Tonganoxie led just 6-3 after the first eight minutes.
"I talked with (Tonganoxie) coach (Randy) Kraft, and we both would have wanted our teams to shoot a little bit better," BLHS coach Noah Simpson said.
Neither team found much rhythm on offense. Most possessions ended either in missed shots and a defensive player's rebound or a turnover.
Simpson said he expects his team's shooting to improve as the season goes along. That's something that is correctible.
The Bobcats somewhat solved the problem during the second half.
Victoria Smith came off the bench in the third quarter and led the Bobcats on a game-changing run. Trailing 13-8, Smith made a field goal that propelled the Bobcats on a 6-0 run with Megan Bergstrom and Macyn Sanders scoring points off turnovers during that time.
Smith finished the game with 7 points. Players went around the locker room and thanked Smith for her play on the court after the game.
She played a pivotal role in the third quarter, and Simpson said he was pleased with how she performed.
"We knew she could play, but we just didn't want to put her in there too early," Simpson said.
With Smith in the game, Basehor-Linwood took a 14-13 lead and eventually held a 19-17 advantage at the end of the third quarter.
Courtney Poe buried a 3-pointer early in the fourth quarter that put BLHS ahead, 22-17. That gave the Bobcats just enough breathing room to take control.
Tonganoxie didn't have much rhythm on offense in the fourth quarter. Basehor-Linwood forced turnovers and also grabbed rebounds that ended possessions. The Chieftains failed to score on at least seven possessions in a row during one stretch of the final quarter.
Basehor-Linwood built an 11-point lead late. Tonganoxie rallied, and a 3-pointer by Madee Walker pulled the Chieftains within 31-28 before time expired.
Bergstrom led Basehor-Linwood with 8 points. Sanders and Smith each had 7 points.