BLHS

boys crush Tonganoxie in season-opener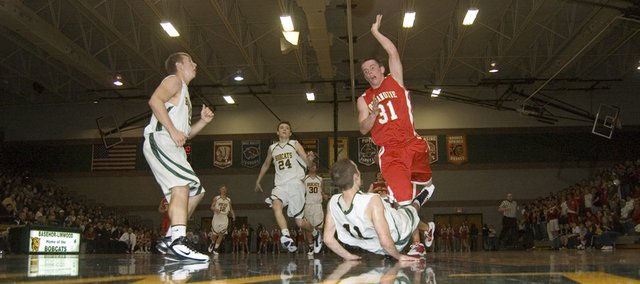 Basehor-Linwood put Friday's season-opening boys basketball game against Tonganoxie out of reach quickly.
The Bobcats were firmly in control after the first quarter, and they were on cruise control the rest of the way in a 62-30 at BLHS.
Photo Gallery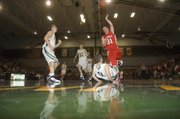 BLHS boys 62, Tonganoxie 30
Colin Murphy poured in 9 early points as BLHS jumped out to a 12-2 lead. Murphy buried a 3-pointer during the run and scored other baskets by slashing to the lane and laying the ball in. He made it look easy, displaying the type of toughness that coach Mike McBride had talked about throughout the preseason.
McBride has talked about the focus that twins Ryan Murphy and Colin Murphy have shown in preseason practices. He has said they seem like they have something to prove early in the season.
Following the game, Colin Murphy said it was a bit of a statement game.
"We wanted to send a message to the league," Colin said.
Consider it delivered.
The Bobcats have lost just two league games in four years, and they hope to win another Kaw Valley League title this winter. They got off to a good start Friday as three different players scored in double figures. Colin Murphy finished with 19 points and didn't play the fourth quarter. Ryan Murphy added 12 points and Evan Theno had 11.
"We got out to a good start and kept it going for 32 minutes," Theno said. "We don't want to start off slow in games."
Basehor-Linwood led 22-8 at the end of the first quarter. In the second quarter, Basehor-Linwood continued attacking the basket and making field goals. The Bobcats also forced eight turnovers and didn't allow Tonganoxie to accomplish much in quarter. The score was 39-12 at halftime.
The fourth quarter was played with a running clock. The team inserted bench players during the quarter, and managed to build a 44-14 led in the quarter. The Bobcats rolled to the finish and used a dunk by Ryan Murphy as an exclamation point.
Tonganoxie closed the game out on a 6-0 run to make the final score 62-30.
McBride said he was pleased with how his team competed throughout the game and said he liked the effort.
"We obviously played hard and there was no real nervousness in the first game," McBride said. "The effort was there and it looked good."