Bobcats' Ryan Murphy a finalist for Otis Taylor Award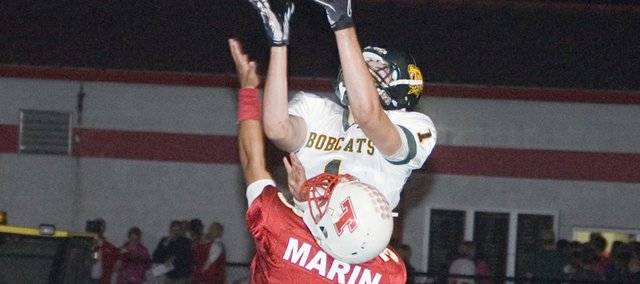 Last year the Basehor-Linwood football team was included in the Simone Awards celebration when quarterback Brandon Leppke was a finalist for the Fontana Award, which goes to the best small class football player in the Kansas City metro area.
The Bobcats will be represented again this year.
Junior wide receiver Ryan Murphy is a finalist for the Otis Taylor Award which goes to the best tight end or wide receiver in the metro area.
Joining Murphy as finalists are Tre Parmalee of Bishop Miege, Sam Sealer of Lee's Summit (Mo.) and Trevor Voglesmeier of Raymore (Mo.) Peculiar.
The winner will be selected in a vote by member head coaches of the Greater Kansas City Football Coaches Association and a 12-member media committee.
The winners will be named during a ceremony at 9 a.m. Tuesday, Dec. 7, at the high school of the Simone Award winner.
The Simone Award goes to the top player in the metro area. Finalists are Corbin Berkstresser of Lee's Summit, Cameron Coffman of Ray-Pec, Darian Miller of Blue Springs (Mo.) and Bubba Starling of Gardner-Edgerton.