Otis Taylor Award doesn't go to Basehor's Murphy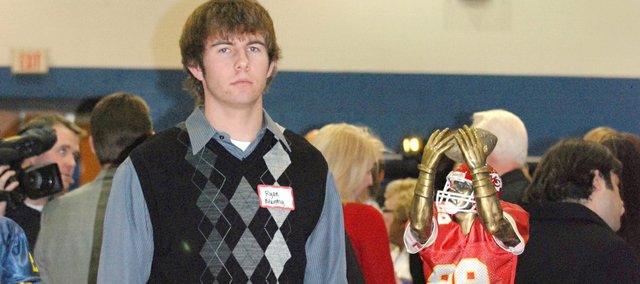 Gardner — Basehor-Linwood junior wide receiver is one of the top pass-catchers in the Kansas City metro area. That was made clear when Murphy was named a finalist for the Otis Taylor Award.
Murphy wasn't considered the very best, however. He joined Tre Parmalee of Bishop Miege, Sam Sealer of Lee's Summit (Mo.) and Trevor Voglesmeier of Raymore (Mo.) Peculiar as finalists for the award, which was presented as part of the Simone Awards ceremony Tuesday morning at Gardner-Edgerton High School.
Sealer was the winner of the Otis Taylor Award.
This is the second straight year BLHS has been included in the Simone Awards ceremony. Last year, quarterback Brandon Leppke was a finalist for the Fontana Award which goes to the best small-class player in the metro area.
The top overall award, the Simone Award, goes to the top football player in the metro area. The winner was Gardner-Edgerton's Bubba Starling.
For more on the ceremony, pick up this week's paper.