Council debates sewer rate hikes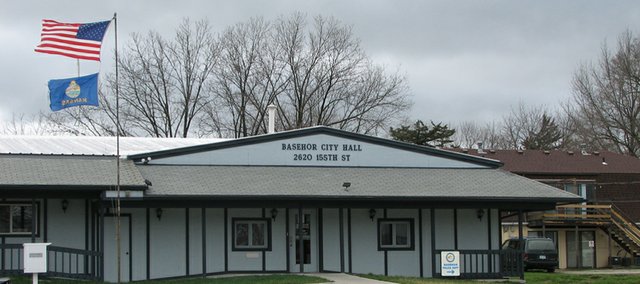 Big bumps in sewer rates during the next several years loom for Basehor residents, and the City Council on Monday juggled numbers as members debated how to structure future rate increases.
City administrator Mark Loughry explained at Monday's City Council work session that a number of factors have combined to require a significant increase in sewer fees during the next two to three years in order to keep up with the debt owed on the city's wastewater treatment plant.
Mayor Terry Hill said the council's reluctance to raise sewer fees in recent years had helped contribute to the problem. Loughry said the housing slowdown as well as low water use due to high-efficiency appliances had also contributed to the sewer fund's projected shortfall.
If Basehor does not raise rates for 2011, Loughry said, the state may force it to raise rates for 2012 by as much as 50 percent.
"Where we're at right now, we simply will not have enough money to pay for this," Loughry said.
Compounding the issue, he said, was that the city also lacks enough cash reserves in the sewer fund to address any sewage emergency costing a few thousand dollars or more. Keeping a reserve for such emergencies is important, he said, because some of the city's sewer lines have degraded so much in spots that the only thing containing the flow of sewage is the clay packed around where a pipe used to be.
Council members tussled over just how sharply to increase the fees for 2011, weighing the shock of steep immediate increases against the higher long-term fees that would come with a slower increase. For 2010, average sewer fees in Basehor were $34.84 per month.
Council member David Breuer said he would support an immediate increase for 2011 of about 40 percent, to an average of about $49 per month, because it would allow for the lowest possible average rates during the long term and allow the city to build up an immediate reserve fund. Loughry said if he were running the city as a business, this would be the best financial option for the city. Breuer agreed.
"I personally think that's the long-term right thing to do," Breuer said.
Council member Dennis Mertz took a more middle-of-the road approach, supporting an increase of about 15 percent for 2011, an increase of about $5 per month. According to Loughry's projections, this would require similar increases in 2012 and 2013 and would result in higher rates later on over the next 10 years. For instance, in 2015, average monthly rates would end up at about $54 under Breuer's plan but at $56.25 under Mertz's.
Member Bill Moyer was initially reluctant to support that large of an immediate increase, but he later said he would support a jump of about 15 percent. He said, however, that the council needed to be careful about too steep of an increase in the current economic climate. Five dollars per month may be a significant cost to older residents on a fixed income or families with one wage earner, he said.
"I think it's very important for us to think about what families can live with this year," Moyer said.
Member Iris Dysart supported the smallest increase, of no more than 7 percent for 2011, with the hope that the housing market might turn around in coming years and provide the city with more sewer connections to bolster its funds.
"That would be a gentler approach, and maybe we would be all right in two years," Dysart said.
Member Jim Washington was absent but had told members beforehand that he supported an increase near Dysart's proposal.
The council will make a final determination on the issue at the Dec. 20 regular meeting.
Also on Monday, the council:
• Agreed to freeze sewer connection fees at the current amount of $3,450 for 2011. The council will vote on the issue at the regular meeting.
• Discussed the city's solid waste collection contract. The council leaned toward awarding the contract to Deffenbaugh Industries and adding curbside recycling, which would amount to a fee of about $14 per month for residents.
• Discussed the possibility of charging Glenwood Estates residents the in-city sewer connection fee of $3,450 to connect to the city's sewer lines, rather than the out-of-city fee of $4,200.