Voices of History
Vets tell of sacrifices on Pearl Harbor anniversary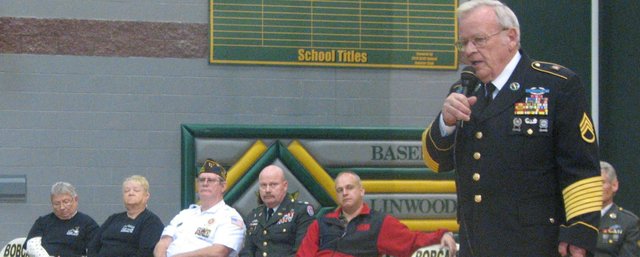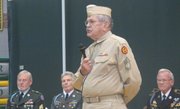 High school students still know the significance of the day, 69 years later.
"Does everybody know what day it is, besides Tuesday?" Fred Box asked students in the gym at Basehor-Linwood High School on Tuesday, Dec. 7.
Murmurs of "Pearl Harbor" arose from the crowd, signaling their understanding that it was the anniversary of the attack that led to U.S. involvement in World War II. Basehor VFW Post 11499 members have visited BLHS on that day each of the last eight years to share their experiences from serving during wartime and to commemorate the bombing of Pearl Harbor.
Box, the post commander, and the four other veterans who spoke at the "Voices of History" assembly Tuesday served in conflicts ranging from World War II to Operation Iraqi Freedom. Each spoke of dark experiences beyond the imagination of people who had not served in a war, but each emphatically said he'd enlist again if given the choice.
"Are there any 18-year-old boys out there?" World War II veteran Wilbur Grisham asked the crowd. As a few scattered hands went up, Grisham said that the 1945 Battle of Iwo Jima in the Pacific was fought largely by men their age or slightly older.
As an Army medic at a hospital in Hawaii, Grisham tended to soldiers injured in the Pacific, including those from Iwo Jima.
He said one of the worst ailments faced by soldiers during World War II was something a medic couldn't treat.
"Homesickness is one of the worst diseases you can come up with," Grisham said.
Grisham spent about three years and three months in Hawaii before coming home in May 1945.
Steve McCowan was the first of three Vietnam veterans to speak. He said he was nervous as it was his first time to speak at such an event, so he read his story from his notes.
McCowan recalled his feelings about being drafted into the Army as a 20-year-old in 1968, at a time when many young people protested the draft or fled to Canada to escape it.
"Although I was filled with apprehension about going to war, I remembered that my father and grandfather were proud to serve their county when it was their time to step up, and I would surely do the same," McCowan said.
During the year he spent serving as an infantry rifleman in Vietnam, McCowan said his unit would sometimes go for weeks without any enemy engagement, while other times it would face frequent mortar attacks.
"The Army made a man out of me, and I count it as the most important thing I've done in my life," he said.
Gary DeRigne said his family also had a military tradition: Two of his great-grandfathers fought on opposite sides of the Civil War, his grandfather survived a mustard gas attack during World War I and his father fought in World War II.
At first, he joined the National Guard to avoid being drafted to serve in Vietnam, at the urging of his family. But he later changed his mind and volunteered for the Army.
"That wasn't a very popular move with my family, but I felt like I ought to be there," DeRigne said. "All my friends were there, and my father had served, and my uncle had served."
DeRigne said he'd envisioned being a soldier as being somewhat glamorous, but he realized that notion was false when he spent 46 days wandering the hot, mosquito-filled Vietnam jungle without bathing.
He watched one of his best friends die in a firefight, an event that shook another man so much that he stayed under psychological care the rest of his life upon his return.
"It has a very profound effect on the rest of your life," DeRigne said, but he said he would "absolutely" enlist again.
Box said he was also shaken by his experiences in Vietnam. He developed a drinking problem, woke up screaming in the night and walked around his house carrying a loaded gun, standing guard.
"I was a complete mess," Box said.
He said those problems came to an end about 20 years ago when the image of his run-down face in the mirror prompted him to ask God for help.
"I've never had another drink," he said. "I've never had another nightmare."
Box said afterward that students tend to pay respectful attention to the program each year.
BLHS sophomore Tanner Garver said hearing the stories helped remind him that veterans are everywhere, including in Basehor.
"It just shows you how it can be close to home," Garver said.