Winter Art Fair raises $500 for Hollis Renewal Center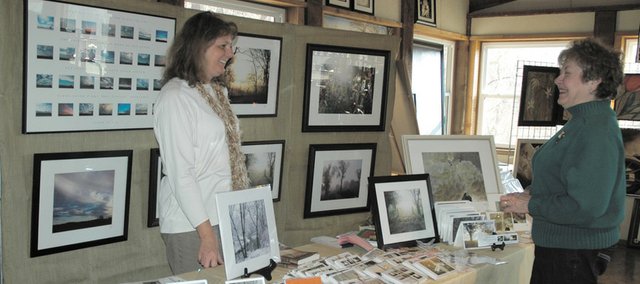 Twelve artists and 200-300 people amounts to what Dave Mareske says was a successful first event worth trying again at the Hollis Renewal Center.
"And I would say that from a standpoint of people visiting the center, it was just as good, if not better, than some of the other art events that we've done here," said Mareske, executive director of the center in Kansas City, Kan.
He was talking about the center's inaugural Winter Art Fair, Saturday and Sunday, Dec. 4 and 5, in the Hollis Lodge
Like virtually all events put on at Hollis, the art fair was planned as a way to raise money for maintenance and upkeep of the center's buildings and grounds. Mareske says the idea for the art fair originally came from his wife, Taren Scott, an area potter who often showcases her work at Hollis and throughout Kansas City.
"I just thought, wouldn't this be a lot more fun if we brought more artists to do it," Scott said. "And we've had a great turnout. We're real happy with the variety of work."
That variety was represented by artists from throughout the Kansas City metro area and even as far away as Topeka. They showcased work that included photography, jewelry, crafts and paintings made with brewed coffee.
Artist Jody Shannon said she bakes the coffee after it's brewed to create a liquid with a consistency much like watercolor. The coffee gives her paintings a rich, dark, almost mahogany quality.
The selection process for this first art fair was a on a first-come, first-serve basis, with the first 12 applicants being accepted, Scott said. All the artists were asked to donate 10 percent of their proceeds to Hollis, and they were provided with the tables, snacks and drinks during the fair.
Topeka artist Kristine Luber, who specializes in fabric bowls, said she was impressed with the fair.
"It's nice to be inside a building, and they provided the tables and they provided snacks and everything," she said. "It's a very nice atmosphere."
Also enjoying the atmosphere were Shawnee residents Les and Candy Monroe, who displayed their own handmade quilts, jewelry and pens during the fair. This was the second art fair in which they had participated, and the first was less than desirable, Candy Monroe said.
"People were more likely to walk by than to stop and ask questions," she said of that first art fair.
The Hollis fair, however, provided a friendlier selection of people curious about and interested in the Monroes' work.
"We were worried, but this has been much more enjoyable," she said.
Mareske said the event raised about $500 for the center. He said he would like to see the event continue to grow, with even more media, such as music, sculpture and woodcarving, represented next year. Woodcarving especially, he said, would be a "great connection" to Hollis, which is located in a wooded area just outside of Edwardsville.
"I'd like someone who makes wood boxes or wood bowls or that kind of thing," Mareske said. "That would be, I think, really cool."