Basehor-Linwood boys win Emporia Tournament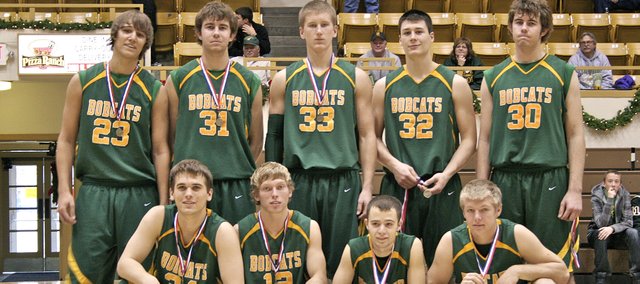 Add another trophy to the Basehor-Linwood boys basketball team's trophy case.
The Bobcats won the Emporia Invitational on Saturday with a 51-45 victory against Word of Life, a school from Wichita.
This is the first time that Basehor-Linwood has won the tournament.
"It is the first time we have ever been in the championship game of this tournament," coach Mike McBride said. "The competition is good down here. We had to string together some tough wins to get through it. It should mean something to our kids as far as confidence goes."
Word of Life mixed up its defensive game plan against the Bobcats.
Word of Life started the game in a full-court press and led 10-2 early in the game.
"We didn't have the players ready for that, and it caught us off-guard," McBride said. "They were fast and athletic; it took us a while to get used to playing that way."
Word of Life also had a lot of height, which gave the Bobcats trouble early.
"We didn't respond very well early in the game," McBride said. "Maybe it was a little letdown, but the kids fought and hustled out a win. They should be happy they fought and figured out a way to win the game."
A letdown was a little understandable.
The Bobcats were playing less than 24 hours after defeating Olathe East by double digits on Friday.
They had finally defeated the Hawks after years of losing to them.
After trailing 10-2 in the first quarter, Austin Laing hit a 3-pointer late in the quarter. The score was 10-5 entering the second quarter.
Basehor-Linwood continued playing hard and took a 16-15 lead in the second quarter. The Bobcats led 22-20 at halftime.
"We kind of settled down and figured some things out," McBride said.
Basehor-Linwood grew stronger as the game went on. By the end of the third quarter the Bobcats had built a 37-30 lead. They closed out the victory with good free throw shooting.
The Bobcats had three players score in double figures.
Colin Murphy led the Bobcats with 14 points. Ryan Murphy scored 13 points and Ryan O'Donnell had 10. In addition, Evan Theno scored 9 points.
McBride said team's defense was pivotal in all three games.
"Defense is what got us through this weekend," he said. "There were times we were trying to get used to things on offense, used to chemistry and that stuff. We played well offensively against Olathe East. In the other two games we didn't play real well."
Basehor-Linwood plays Piper on Tuesday, its fourth game in 136 hours and the final game before winter break. The stretch of games is a good test early in the season, and McBride said his team can use the rest with no games scheduled until Jan. 7.