No more valedictorians?
BLHS

may stop recognizing top student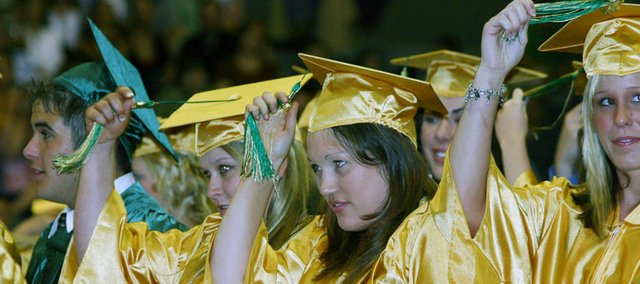 As Basehor-Linwood High School adopts new ways of pushing its students to challenge themselves, it may do away with a traditional method of recognizing high achievers: the annual recognition of a valedictorian.
On Monday, as Basehor-Linwood Board of Education considered whether to use the BLHS weighted-grade system to determine students' class rank, BLHS counselor C.R. Goodin told board members they should also decide whether to follow an educational trend and end the custom of naming a valedictorian and salutatorian.
Goodin proposed that the school instead recognize the students who rank in the top 10 percent of their class, something he said other high schools tended to do.
Board members who spoke about the issue were split on whether the valedictorian tradition should be kept. Member Doug Bittel said the change may save students from undue stress created by the race for valedictorian, but member Eric Dove said the recognition of the valedictorian reflected the competitive environment students may encounter in their future careers.
The board voted 7-0 to accept the addition of five honors courses as well as a few other course changes at BLHS, but it opted to delay a decision on the class rank system until January to allow members time to consider the question of whether to name a valedictorian.
For more on this story, pick up Thursday's print edition of the Sentinel.