Basehor-Linwood valedictorian title could be thing of past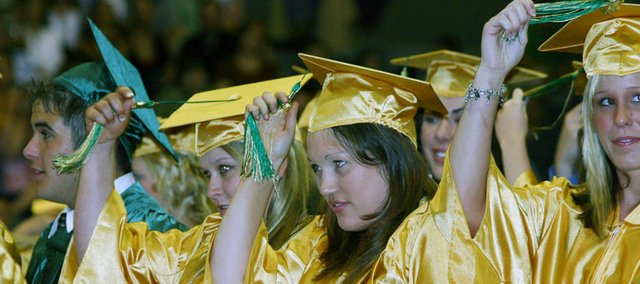 Heather Carmitchel was one of five Basehor-Linwood High School valedictorians in 2009. Earning the top honor wasn't necessarily a goal of hers, but she was ecstatic about being named a valedictorian.
That accomplishment, though, could become a thing of the past at BLHS.
On Monday, as Basehor-Linwood Board of Education considered whether to use the BLHS weighted-grade system to determine students' class rank, BLHS counselor C.R. Goodin told board members they should also decide whether to follow an educational trend and end the custom of naming a valedictorian and salutatorian.
"It's kind of an outdated designation that's not being used very much anymore," Goodin said.
Goodin proposed that the school instead recognize the students who rank in the top 10 percent of their class at graduation, something he said many high schools have chosen to do rather than singling out the top-ranked student and the runner-up.
The school would still inform students of their class ranking so they could include it in their college applications, Goodin said. But as long as students have a good grade-point average and a high class rank, college admissions officials don't take the valedictorian and salutatorian distinctions into consideration, he said.
For Carmitchel, now a sophomore at Kansas State University, becoming valedictorian wasn't a goal, but that didn't dampen her excitement when she earned the honor.
"I was really happy that I was able to earn that, even though it wasn't something I expected to do," Carmitchel said during a phone interview Wednesday.
And, she said she didn't see a reason to take away the chance for future students to earn the honor she did.
"It seems silly to take away a title that's got a lot of history with it and a lot of honor," Carmitchel said.
Naming valedictorians might be steeped in tradition, but it could have some hurdles with its continuation.
BLHS president Sherry Reeves said the proposed expansion of the school's weighted-grade system to all of its honors courses would create some problems with determining a valedictorian. For one thing, the school is not big enough to offer students complete freedom in choosing courses, and conflicts sometimes arise that prevent students from taking honors courses — something that might keep an otherwise deserving student from accumulating enough grade points to become valedictorian.
"It's not our intention at all for those students, our best students, to take every honors course," Reeves said. "That's not reality."
Reeves said the school hoped to encourage students to challenge themselves in appropriate subject areas, not to worry about competing against each other for the top spot.
The differences separating the top students' GPAs are also often quite insignificant, Goodin said.
"I think that could be splitting some hairs there at the top," he said.
The board voted, 7-0, to accept the addition of five honors courses as well as a few other course changes at BLHS, but it opted to delay a decision on the class rank system until January to allow members time to consider the question of whether to name a valedictorian.
Board members who spoke about the issue Monday were split on whether the valedictorian tradition should be kept.
Member Doug Bittel said the change could save students from undue pressure created by the race for valedictorian, which was something he witnessed firsthand when his son chased the crown during his senior year of high school.
"It was a lot of stress, and when we finally got a 'B,' it was a big let-down," Bittel said.
Member Eric Dove, who said he was a valedictorian and the father of one, said the achievement was a nice award, and the competition reflected what students would encounter in their future careers.
"It matters every day in my work life: who's no. 1 and who does it best," Dove said.
Echoing that thought was member Wynne Coleman, who said that workplace recognition often comes down to differences of a few percentage points, as well.
"My concern is that we not sugarcoat the students and then not really start to teach them life lessons," Coleman said.
Board president Dayna Miller noted that it would not be a full departure for the school to recognize more than one or two students for finishing at the top of the class, because in recent years as many as six or seven students have tied for the valedictorian title.
Among other nearby school districts, Tonganoxie, Bonner Springs and Lansing high schools all recognize valedictorians, according to officials in those districts. Leavenworth High School does not use the "valedictorian" title, but both high schools in Lawrence do, though as many as 15 students may earn the title in one year.
In other business Monday, the school board:
• Approved, 7-0, a new three-year technology plan for the district.
• Approved, 7-0, a contract with Trane for HVAC services.
• Approved, 7-0, the appointments of Thomas O'Briant, Glenwood Ridge Elementary School head custodian; Yvonne Sowter, food service manager; Chase Rust, custodian; and Amy Irvin, BLHS volleyball coach.
• Accepted, 7-0, the resignation of David Svoboda, BLHS social studies and journalism teacher.