Bonner Springs sixth-graders fight for fossils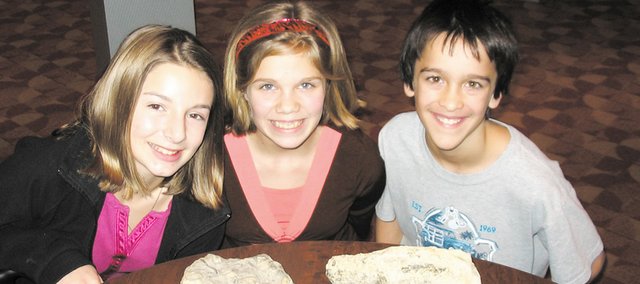 A group of Clark Middle School sixth-graders hopes to help area residents realize the rich history that can be found right under their feet.
Deb Buckley and Kim Nelson's classes have taken great interest in their geology lessons this year and, led by students like Leelynn Bogan, Parker Capehart and Paige Krone, they are making greater efforts to let others know about the ancient fossils that can be found locally and are being crushed in rock quarries every day.
"I think we started this saying, 'Oh, we're just learning about rocks, and let's get this quarter over with so we can go on to the next thing,'" Paige said. "But I think as we went through our investigation, people became attached to the idea and cared more than what they did at the beginning."
The classes began studying geology just before the start of the second quarter, learning about the different types of rocks and how they were formed. One of their first activities was a visit to a rock quarry at Donahoo Road and Interstate 435. They took a handful of tools, including chisels, hammers and brushes, and sought out fossils both in loose rocks and the quarry's rock walls.
They found fossils like brachiopods and an ancient clam. They also found different types of rocks and minerals like slate and calcite deposits.
The students said they were surprised at the number and quality of fossils they found dating to 350 million years ago.
"I'd heard of fossils, but I never exactly knew that much information we could find here in the state of Kansas," Paige said.
This is the second year the sixth-grade classes have visited the quarry, but this year, students went even more in-depth with their studies. They wanted to see if the quarry operators watched for fossils as they quarried or if they made any effort to save them.
"We didn't know what we could find, and we found out you can find them almost everywhere," Parker said. "So, we saw if they knew about that and what they could do to help."
"We knew that they crushed them… and we did not know that they had no clue what they were crushing," Paige added. "They just knew that this is their job, this is what they were told to do. They did not know that there were fossils in there."
So the students began a campaign to make area quarry companies aware of the fossils. Parker was one of the students in charge of finding and contacting the companies.
"Some of them watched out for (fossils) but most of them didn't," Parker said. "They didn't really care about what it was. They didn't realize that they could've been used for more research."
He also looked for a location in the city to try to showcase the fossils that the students found in order to raise public awareness.
Some students contacted the Kansas Travel Magazine and asked if there was a way to get an article published.
Also in their studies, the students created two murals: one depicting the different layers of the earth and another depicting what they thought Kansas looked like millions of years ago, underwater with live versions of the plant and fish fossils they found.
"That was something new we did this year… a step forward," Leelynn said. 'We probably worked on it for a good week."
The students said though they hadn't decided to become geologists, they thought their interest in geology and fossils would continue.
"I probably won't study it as much as we've been studying it, but if I happen to see something that interest me at one point in time then I probably will do a little research on it," Paige said. "Or if I see an article on it, I'll probably read it."
Parker also has been inspired to contact his second cousin, who is a geologist in Colorado.
"He said if he finds anything that he can keep, he's going to bring it to us," he said.