New assistant police chief ready to start in Edwardsville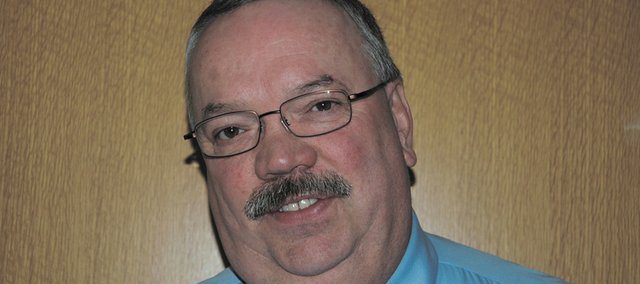 After 31 years of working in law enforcement, Gerry Cullumber says he still likes to keep it "old school."
The lieutenant with the Lenexa Police Department will soon don the hat of assistant police chief in Edwardsville — a leadership position the department has been without for three years.
"I'm old school and you might think this sounds kind of … sappy, but (the city of Edwardsville) wants to do it right, and I'm very impressed by that," Cullumber said. "I've been thoroughly impressed with Edwardsville from the start of the (hiring) process all the way through."
That process started in August shortly after Mark Mathies, police and interim fire chief, brought a proposal to the Edwardsville City Council requesting the addition of two deputy fire chiefs and one assistant police chief. Mathies said the assistant police chief position has been the first priority; the fire department, he explained, already was in the capable hands of three captains with more than 60 years of experience among them. The police department, on the other hand, demands more managerial and administrative work than can adequately be handled by the department's current staff, he said.
"It's taken its toll," Mathies said of work that had been delegated to sergeants three years ago after budget cuts took away two major sergeant positions. At that time, master sergeants essentially acted as assistants to the chief of police.
After the job cuts, Mathies said, the sergeants still had to keep up their normal amount of patrol work each week, in addition to the added responsibilities.
"We are just way too busy to continue that any longer," Mathies said. "We looked at an assistant chief to take back those responsibilities."
Cullumber said he was ready and more than happy to do so. He started his career in 1979 in the Johnson County Sheriff's Department, and then moved in 1987 to the Lenexa department, where he has been working ever since. He says he has worked in virtually every field of law enforcement imaginable, including undercover narcotics, the detention division, road patrol, warrants and even field-training officer. He also works as an adjunct professor at Baker University School of Professional Graduate Studies, Overland Park, and Graceland University, Independence, Mo.
"Thirty-one years of experience you cannot … buy," Cullumber said. "I've done it. I've been through them all, through all different divisions."
It was this versatility, Mathies said, that made Cullumber stand out among the 21 other applicants for the position.
"We were looking for someone specifically who, number one, would be a good fit in our organization, as well as who had experience in all of the things that we're going to need this person to manage," Mathies said, noting some of those areas include animal control, investigations and patrol operations. "And he has done all of those at some point in his career."
Cullumber said he was looking forward to assisting Mathies and the city in helping Edwardsville to reach its full potential. He said he also wants residents to see him as someone they can talk to.
"My number one goal for me personally and for that agency is to assist Chief Mathies in getting (the city) to where he wants it to be," Cullumber said. "I am a huge believer in maintaining a close … contact with the community. I have some ideas of what he wants, and we're just going to help him get it there."
Cullumber officially will become Edwardsville's assistant police chief Jan. 3.