Redemption for Seaton at Emporia Winter Classic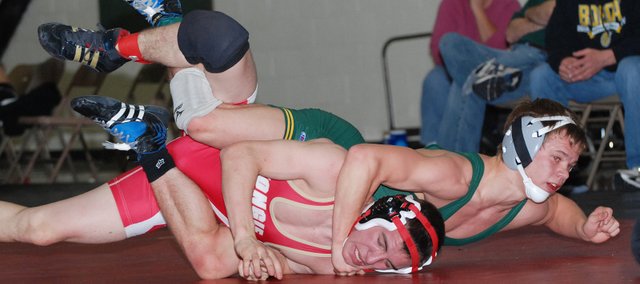 Symon Seaton reached a season goal last week, winning the Emporia Winter Classic and avenging a loss from last year to a top Class 5A wrestler.
In the championship match of the 135-pound weight class, Seaton defeated defending 5A state champion Brandon Charbonneau of Emporia by a 5-4 decision.
Seaton led 5-1 midway through the second period when his opponent made a move, scoring a takedown and escape.
With the score 5-4, Seaton assumed the top position in the third period and did not allow his opponent to make an escape. He held on for the victory.
"(Charbonneau) beat Symon last year in the finals," BLHS coach Ed Seaton said. "It was a big win for us. Symon is working hard in the room just like all the other kids. He knows what he wants to do. We are going to get there. That one tournament, it was one of his goals this year."
With the victory, Seaton improved to 11-0 for the season.
He dominated the early rounds of the tournament. First, he pinned Aaron Wilson of Washburn Rural. He won the next match over Brandon Fuller of Topeka-Seaman with a 16-1 technical fall. After that, Seaton earned a 7-3 decision against Lincoln Lemon of Goddard in the semifinals.
Seaton's performance led the Bobcats to a 16th-place team finish.
The other teams competing in the tournament were Emporia, Eudora, Goddard, Harmon, Hutchinson, Junction City, Lansing, Lawrence Free State, Maize, McPherson, Pittsburg, Topeka High, Topeka Seaman, Washburn Rural, Turner and Wichita Southeast.
Seaton was one of three Bobcats to place in the tournament.
Sammy Seaton, Symon's brother, placed fifth in the 103-pound weight class. He won his final match by default when his opponent had to forfeit because he'd already wrestled the single-day limit of five matches.
Sammy Seaton lost his first-round match to Jacob Wilgers of Maize, but he bounced back with a 3-2 decision agianst Aaron Freislinger of Washburn Rural and then pinned Free State's Drew Botello.
Seaton lost his next match to Dakota Leach of Goddard and slipped into the fifth-place match.
Rounding out the Bobcats' placers was Michael Torrez who finished sixth in the 112-pound weight class.
Torrez had to forfeit the fifth-place match because he had already wrestled five matches on the day.
In his first match, he lost to P.J. Cheney of Turner.
Wrestling in the consolation bracket, Torrez defeated Kaden Kretzer of McPherson, 6-4. He won the next match against Rhett Oakley of Wichita Southeast, 7-0. After that, Torrez earned a 7-6 decision agianst Parker Fields of Pittsburg before ultimately falling to an opponent from Cheney and dropping into the fifth-place match.
In addition, Josh Summers and Steven Struzzo won matches in the tournament.
"A win in a tournament like that is a big deal," Ed Seaton said. "It is a stepping stone, I guess."
Basehor-Linwood will return to action at 8:30 a.m. Saturday, Jan. 8, at the Dick Burns Mat Classic at Bonner Springs High School.