'

Slingin' beans and buttercream'
Shawnee entrepreneurs create mobile cupcakery and coffee bar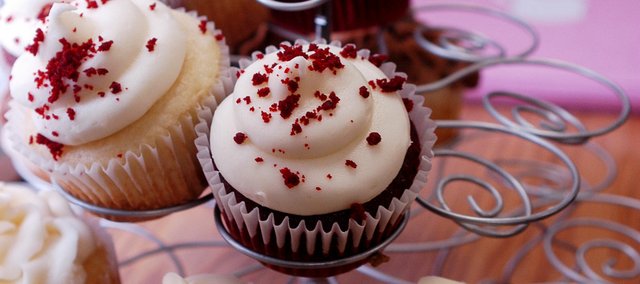 CoffeeCakeKC is their name and, as the owners will tell you, slingin' beans and buttercream is their game.
A shiny, red mobile cupcakery and coffee bar is now roaming area streets stocked with boutique cupcakes and green coffee from two Shawnee entrepreneurs.
Renee Kloeblen of Ms. Nene's Takes the Cake Bakery and Brian "Stubbie" Jurgens of E.F. Hobbs Specialty Coffee teamed up to create CoffeeCakeKC. The duo used social media to help their start-up and continue to ride the Twitter wave as they peddle their oh-so-tasty goods.
Kloeblen, a Shawnee resident, is a former kindergarten teacher and mother of two. She turned her baking hobby into a business with the creation of Ms. Nene's.
Kloeblen's cupcakes bear names like the "Ruby Slipper" (red velvet cake topped with white chocolate cream cheese frosting and edible red glitter) and "That's Some Pig" (vanilla pound cake with candied bacon, topped with brown sugar buttercream and maple-syrup drizzle).
"I'm not a very traditional person, so I try to be as creative as possible," she said. "There's so many people making cupcakes right now, so you have to stand out."
Jurgens, a self-described "corporate refugee," turned his coffee hobby into a business when he started E.F. Hobbs a couple years ago, after taking a buyout from Sprint.
Jurgens lives in Lenexa and roasts his coffee at 8165 McCoy St. in Shawnee.
Jurgens sells mostly single-origin coffee. He said he rarely blends it because he likes to taste flavor nuances created by different growing regions.
Kloeblen and Jurgens had their first meeting in late July.
"I brought him some cupcakes and he brought me a latté," Kloeblen said. They soon decided, "let's do something together."
CoffeeCake hit the streets in mid-December.
Between customers and — during one a recent lunch hour — interview questions, Kloeblen's fingers fly across the touchpad of her purple-skinned smartphone.
The @shawneedispatch is at the truck doing an interview ... yeah!
Over the next few minutes, followers reply:
Woot!
Congrats on the @shawneedispatch & your interview.
You go girl!
Kloeblen has relied on Twitter to steer CoffeeCake from its inception.
She built a network on the social media website, where followers offered business advice, helped her choose her bakery logo and connected her with the man she rents kitchen space from.
Kloeblen and Jurgens leaned on Twitter to collect online donations that enabled them to transform an old uniform-delivery truck into their shiny new mobile kitchen.
Now that the truck's on the road, CoffeeCake uses Twitter to announce its ever-changing coordinates.
Coffeecakekc is headed to 9th and Main! :) come see us!
On the truck today. Hospital Hill @ Noon!
CoffeeCake's Twitter followers even help decide where the truck parks.
Kloeblen said she sends out "feelers" at night to get tips about where to find cupcake-hungry customers the next day. She also gets requests — like "Some people in my office want cupcakes and coffee at 3 p.m., can you be there?" — and obliges when she can.
For now, CoffeeCake has business and mobile kitchen licenses only in Kansas City, Mo.
Kloeblen and Jurgens would like to expand into Johnson County but said mobile kitchen licensing appears to be uncharted territory for many suburban cities.
Jurgens said some don't allow the vehicles because they don't have ordinances governing them.
"I think they probably see it more as a roach-coach, and we're definitely more high-end," Jurgens said. "We're hoping they can see us for what we are and maybe make an exception."
Kloeblen said mobile eateries like CoffeeCake are gaining steam in other cities she's visited.
"We're trying to trail-blaze our way," she said. "Mobile is the thing."