Softball championship signals big year for Basehor-Linwood
Basketball, track athletes also see successful season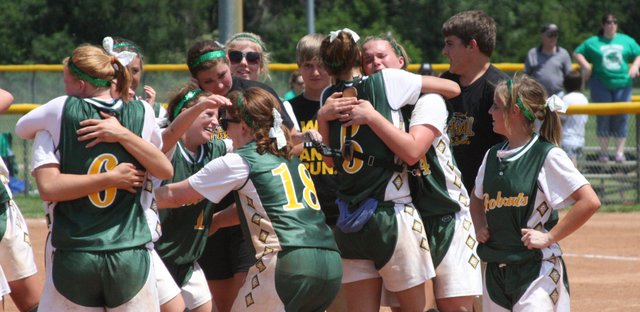 The athletics success stories at Basehor-Linwood High School were too many to count in 2010, but we've tried to narrow down the list.
Looking back at a big year for Bobcat athletics, here's a refresher of five of the biggest sports stories at BLHS in 2010.
BLHS SOFTBALL WINS STATE TITLE
The Basehor-Linwood softball team made history as it won the Class 4A softball state championship — the second athletic state title in school history and first in a girls sport.
The pictures taken in the moments after the championship game will be the lasting images of a historic season where the Bobcats posted a 24-2 record and capped it with a 5-2 victory against Mulvane in the championship game.
"It is a classic ending to an incredible season," coach Susan Mayberry said. "It's something the kids expected to go down and do. To see them accomplish what they wanted to do was a thrill for me."
The Bobcats turned in numerous thrilling performances throughout the season, but none were better than in the state finals against Mulvane.
Mulvane scored a run in the first inning, and the Bobcats grew angry.
Moments later, they responded.
Hannah Tush drove in a run in the bottom of the first inning to tie the game. Then, Tara Chumley crushed a three-run double over the right fielder's head. The Bobcats led 4-1, and they were in control the rest of the way.
Pitcher Brooke Redmond stayed poised into the late innings and had full control of her pitches.
"She pitched great," Mayberry said. "She had tremendous composure. She pitched within herself. A couple innings she overthrew a bit, but she collected herself. Playing for a team that can attack you, we are kind of in your face all the time. That helps in the way that she pitches. That drives our defense and our offense. We know how to take care of business. She pitched really well."
The Bobcats added another run in the fourth inning and led, 5-1.
Mulvane scored a run in the top of the sixth. With two outs, and runners on second and third base, Olivia Cowan made a diving catch on a ball that was hit to left field. Soon after that, the Bobcats hoisted a state championship trophy.
SYMON SAYS STATE CHAMPIONSHIP
When the final buzzer sounded, Symon Seaton raised his arms to the sky in celebration and then collapsed into the arms of his father for a long embrace that was three years in the making.
Seaton was officially a state champion.
"It was awesome," Seaton said of winning the wrestling state title. "That was the best feeling I've ever had. It's so cool to finally win. I've fallen short the last two years, so it was finally good to get that title."
As a freshman, Seaton placed third at state at 112 pounds. As a sophomore, he finished sixth at 125. He reached the championship semifinals and lost a 3-1 heartbreaker before losing his final two matches in disappointing fashion.
This year, again in the 125-pound bracket, there were no let-downs. Instead, there was a disciplined, determined junior with his eyes on the gold medal.
Seaton won no matches by pin or technical fall at state, but he still worked his way into the finals for a matchup with Brett LaMar of Silver Lake. A senior with just two losses, LaMar was expected to give Seaton a mighty challenge — and he did.
Still, Seaton was ready. He scored an early takedown. LaMar hung tough throughout, however, but Seaton held on for a 6-5 decision and a state title.
Seaton finished the season with a 34-2 record.
GIRLS BASKETBALL MAKES STATE
When the Basehor-Linwood girls basketball team lost four of its first five games, there was little for the Bobcats to celebrate.
Still, they kept everything in perspective. They'd played tough competition, and they expected that competition to help prepare them to make a run at the state tournament.
Mission accomplished.
The Bobcats stayed focused, hit their stride and won 15 of their last 19 games en route to a berth in the Class 4A state tournament.
Once there, they played a thriller against defending state champion Concordia. The Bobcats threatened to snap the Panthers' 49-game winning streak for much of the game, but Concordia knocked down a few late free throws and edged BLHS, 45-38.
The Bobcats ended the season with a 16-8 record, but coach Noah Simpson said he was proud of the way his team competed at state.
"We understand Concordia's now won 50 games in a row. They're the defending state champs. They're obviously a very good ball team," Simpson said. "But after playing Aquinas and playing some of those teams (during the regular season), we're not going to count ourselves out against anybody. We might still get beat, but we're going to give you the best shot that you've seen, and I think our kids did that."
BLHS made a lasting impression on the opposition, according to Concordia coach Derek Holmes.
"Basehor gave us everything we wanted; that's for sure," Holmes said after the game.
The Bobcats lost two valuable seniors — Cassy Bever and Taylor Johnson — from the state team, but the rest of the lineup was made up of underclassmen expected to return for another run at state.
EDMONDS WINS 2 STATE MEDALS
The long trip home from the Class 4A Track and Field State Championships was much more spirited than in recent years for Basehor-Linwood.
For starters, BLHS snapped its streak of having just one state qualifier. Seven Bobcats made the trek to Cessna Stadium, and all of them had memories to celebrate.
Also notable was the fact that the Bobcats brought home more state hardware than they have in years thanks to sophomore sprinter Dakkota Edmonds.
After narrowly missing out on qualifying for state as a freshman, she competed in three events at state and brought home two medals in 2010.
Edmonds placed fourth in the 100-meter dash in 12.55 seconds and added a fourth-place finish in the 200 in 26.16.
"I'm going to work a lot harder and try to get a better medal next year," a motivated Edmonds said after leaving the awards stand.
No other BLHS athlete medaled, but many gave strong performances. In Edmonds' third event, the 400-meter relay, she and freshman Rachael Cook, junior Shelby Equels and junior Courtney Inlow ran their best race of the season and finished 13th in 52.93.
FOOTBALL NOT SATISFIED WITH 9-1
The Basehor-Linwood football team rolled through the regular season undefeated and compiled the most wins in a season in school history.
When the playoffs began, however, the Bobcats were unable to replicate the magic.
Their bid for an unbeaten season and a state championship came crashing down in the first round of the Class 4A state playoffs in the form of a 36-22 home loss to Sumner Academy.
The loss brought a frustrating end to what was otherwise a record-setting season in numerous ways.
The Bobcats won an undefeated Kaw Valley League championship and set a school record for wins in a season with nine. Quarterback Colin Murphy threw for a school-record 2,020 yards, while twin brother Ryan Murphy had more than 1,000 receiving yards and was a finalist for the Otis Taylor Award. That award goes to the top receiver in the Kansas City metro area.
It was an impressive feat for a squad that had to replace 20 seniors from the 2009 squad that went 8-2.
"If you had told me at the beginning of the season that we were going to be 9-1, I would say 'that is outstanding' and be very pleased, to be quite honest," BLHS coach Steve Hopkins said. "It is a lot of fun when things are going well. They did something no one else had done."