Top stories of 2010
Readers weigh in on 2010's biggest headlines in Basehor

Photo Gallery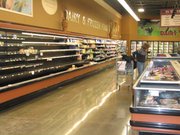 Basehor's top stories of 2010
For Basehor, 2010 was a year of doors opening and closing.
The doors opened for students at two new state-of-the-art buildings for the Basehor-Linwood School District, but the doors closed for Basehor area shoppers at the city's long-awaited grocery store, Wolf Creek Marketplace, when the store folded just seven months after opening.
Those two stories were the biggest in Basehor in 2010, according to Sentinel readers who voted in an online poll during the last two weeks. Readers voted for their top five stories out of 10 nominated by the Sentinel staff, and the opening of the new school buildings and the closing of Wolf Creek Marketplace tied for the most votes.
Drawing the third most votes was the story of two Basehor-Linwood High School teachers who were sentenced for charges resulting from a Basehor Police Department investigation of inappropriate sexual behavior with the same student.
This month's news of a traffic signal coming to U.S. Highway 24-40 and 158th Street came in fourth in the voting, and the school district's battles with budget shortfalls and funding cuts rounded out the top five.
Here's a look back at the stories that shaped Basehor the most in 2010, according to Sentinel readers:
Basehor-Linwood District celebrates new buildings
With noses and cheeks pink from the snowy weather, Basehor Elementary students were all smiles on the morning of Jan. 11 as they walked through the doors of their new school.
It marked a day in Basehor-Linwood history, as the third-, fourth- and fifth-graders moved from their old school on Leavenworth Road into a new building off 155th and Hickory streets.
The snow and frigid temperatures delayed the move, which was originally scheduled to take place Jan. 6, but the transition took place smoothly. The students were dropped off at the former Basehor Elementary as usual and were bused to Basehor Elementary School 3-5 all together. District staff and administration were eagerly standing by inside the building to welcome the children.
"I'm so, so excited," USD 458 School Board member Wynne Coleman said as she waited for the buses to pull up to the building.
It was a similar, albeit warmer scene about seven months later when the new Basehor-Linwood Middle School building opened to students.
During a ribbon cutting and dedication ceremony for the new middle school building on Nov. 21, district assistant superintendent Mike Boyd remembered watching children walk off the bus on the first day of school in August for their first look at their new school.
"It was one of those 'Oh, wow' moments," Boyd said.
The opening of the two buildings was the culmination of a process that began when district voters approved a $39.9 million bond issue in 2007. The intermediate and middle school buildings accounted for the bulk of that total cost.
Also during 2010, Basehor-Linwood High School opened its $1.4 million Health and Wellness Center, which was paid for largely by a FEMA grant because of its dual function as a severe weather shelter.
Wolf Creek Marketplace closes
After only seven months in business, Wolf Creek Marketplace closed at the end of February.
The 44,000-square-foot Basehor supermarket with its lighted howling wolf décor opened July 17, 2009.
The marketplace didn't have enough shoppers to keep it afloat in such a grueling economy, operating manager Kevin Barclay said.
"We just didn't have enough traffic," Barclay said in February. "The people in Basehor really supported it, but we didn't have enough traffic from the outlying areas, I think because Basehor isn't really a destination shopping area."
Barclay cited lack of development along Wolf Creek Parkway and the absence of the store's planned second access point off 150th Street as additional reasons it needed to shut down.
The store was a much-awaited, highly requested business in Basehor, and Barclay along with Benchmark Management owners Ed McIntosh and John Bell fought for more than five years to make it happen.
Basehor Mayor Terry Hill expressed his sadness about the demise of the grocery store a few days before its closing, but said he was optimistic the building could be reused or a new store could open in the city.
"I'm very disappointed," Hill said. "I think the community supported it, and the city is disappointed it didn't survive. "We're looking forward to the possibility of a new supermarket coming and being successful. The community needs it."
The closing left the city with uncertainty about how it would repay a $1.6 million loan from the Kansas Department of Transportation for its transportation development district on Wolf Creek Parkway, which was meant to be repaid with a portion of the store's sales taxes.
Ten months later, the building is still vacant.
Two former BLHS teachers involved in student sex case
Former BLHS teacher Scott Neil pleaded guilty to unlawful sexual relations and former teacher Kevin Vincent pleaded no contest to battery after a Basehor Police Department investigation of inappropriate sexual behavior with a student.
Neil, a former history teacher and wrestling coach, received a six-month suspended sentence in April in Leavenworth County District Court for one count of unlawful sexual relations with a 16-year-old student. Judge Gunnar Sundby also ordered Neil to spend 48 hours in jail with 12 months probation.
Neil, a 44-year-old Tonganoxie resident, pleaded guilty Feb. 17 to the charge filed Feb. 15 for two incidents that took place with the female student, one around June 1, 2008, and the other Dec. 31, 2008. According to the Leavenworth County Attorney's Office, one of the incidents took place in the high school.
About a month later in May, Vincent, who was a science teacher and boys soccer coach, received a six-month suspended sentence in Leavenworth County District Court for one count of battery.
Vincent, a 30-year-old Shawnee resident, pleaded no contest to one count of battery, or repeatedly and intentionally touching the same student in an offensive manner. The behavior took place from September 2007 to May 2008 at the school, according to County Attorney Todd Thompson.
The student's mother addressed the court during Neil's sentencing hearing.
"I'm still trying to understand why Scott Neil … preyed on my young, naïve daughter," she said. "We as parents believed we could send her to school safe with the assurance she would be taken care of by the faculty. I also wish my daughter had the self-confidence … to have not allowed it. She gave into the fantasy he created for her. She fell to his sickening charm. It sickens me he took something so intimate for a young lady and made a mockery of it."
Traffic signal coming to 158th Street and U.S. Highway 24-40
A traffic signal is coming to U.S. Highway 24-40 at 158th Street on the edge of Basehor, after years' worth of efforts by the city and other groups to improve safety at the intersection.
The Kansas Department of Transportation told area officials in early December of plans to install a stoplight at 24-40 and 158th, with a goal of finishing by late summer 2012.
The decision came after a third KDOT traffic study of the highway since Tonganoxie teenager Amanda Bixby died in an accident at the intersection in February 2007, said Kimberly Qualls, northeast Kansas public affairs manager for KDOT.
Qualls said KDOT planned to coordinate the light with the signal on the highway at 155th Street to reduce traffic delays.
David Howard, Basehor-Linwood School District superintendent, wrote to KDOT in September asking for the speed limit on U.S. 24-40 to be lowered through Basehor. Though KDOT did not grant that request, Howard said district officials were thrilled at the news of the coming stoplight.
"I just cringe when I see the traffic out there at 7:30 a.m.," Howard said.
The opening of the district's new middle school on 158th south of Basehor has led to increased morning and afternoon traffic, Howard said. Students who once rode the bus to Linwood for school now get a ride from their parents.
"We definitely have more parents dropping off at the middle school than we ever had before," he said.
School district battles budget shortfalls
Because of state public education funding cuts announced by Gov. Mark Parkinson, base state aid was cut from $4,433 per pupil to $4,012 per pupil during the 2009-2010 school year.
Basehor-Linwood Superintendent David Howard said in May that the district had been affected to the tune of $1 million during the last two years, and had made several changes in an effort to offset the limited funding.
At various meetings in 2009 and 2010, the Basehor-Linwood Board of Education approved fee increases and cuts to educational services. The district also did not refill the positions of a few teachers and administrators who were retiring or resigning at the end of the school year.
"We've eliminated five teaching positions and one administrator, along with numerous other reductions in athletics, support staff and educational services," Howard said.
Basehor-Linwood should not see further fee increases or cuts in the immediate future, but the $1 million deficit still stings as administrators, faculty and staff work to provide the same services with less money.
Howard said this had been particularly difficult because the cost of many district necessities was still on the rise.
"Unfortunately our operating costs — insurance, food, electricity, gas — continue to rise despite the reduction in general fund," Howard said.