BLHS

wins 61-52 at Tonganoxie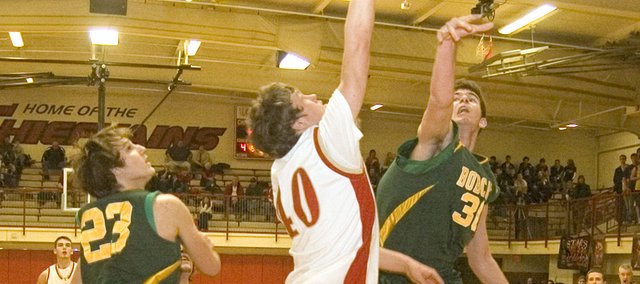 Photo Gallery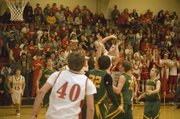 THS boys lose to Bobcats
Tonganoxie High's boys basketball team fell to rival Basehor-Linwood at home on Tuesday night. The Bobcats handed THS a 61-52 defeat.
It wasn't easy, but the Basehor-Linwood High boys basketball team remained undefeated in the Kaw Valley League with a 61-52 win at Tonganoxie Tuesday night.
The Bobcats (11-2 overall, 6-0 KVL) looked the part of the league favorite and the defending Class 4A state champions as they kept their cool on the road, despite trailing the rival Chieftains late in the third quarter.
THS (6-7, 3-3) led 42-39 with more than a minute to go in the third, but BLHS sophomore forward Colin Murphy hit back-to-back threes to close the quarter and the Bobcats never trailed again.
Basehor-Linwood then opened the fourth on an 8-3 run to keep Tonganoxie at a distance and closed out the game going 6-for-6 at the free-throw line in the final 1:05 — Mark Vaca hit four freebies and Murphy hit two.
Nursing a one-point advantage at the half, the Bobcats and Chieftains traded points and leads in the opening minutes of the third.
After a free throw from THS sophomore Dane Erickson tied the game at 27, Basehor forward Ryan Murphy answered with a bucket.
The next time down the floor, Tonganoxie junior Austin Vickers hit a three to give his team the lead.
Then Ryan Murphy took it right back with a baseline jumper.
After a steal by Vickers, Chieftains junior point guard Jeremy Carlisle converted a three-point play in transition to give the home team a slim lead that it maintained for the next four minutes before Colin Murphy's threes closed the period.
Senior forward Keaton Schaffer led THS with 19 points, while Erickson added 17.
The Murphy twins led the way for the Bobcats as Ryan finished with a game-high 21 and Colin had 18.
Tonganoxie plays host to Perry-Lecompton on Friday at 7:30 p.m.
Basehor-Linwood looks to remain undefeated in the KVL with a Friday home date against Mill Valley.
Score by quarters
BLHS 17 10 18 16 — 61
THS 11 15 16 10 — 52
BLHS scoring
Marc Vaca 0 7-9 7, Ryan Murphy 10 1-1 21, Colin Murphy 6 3-5 18, Richie O'Donnell 5 2-3 12, Jake Hattock 1 1-2 3.
THS scoring
Austin Vickers 3 0-0 9, Dane Erickson 6 5-8 17, Keaton Schaffer 7 3-4 19, Jeremy Carlisle 1 1-2 3, Colby Yates 1 2-2 4.