Bobcat girls' bombs lead to win at
THS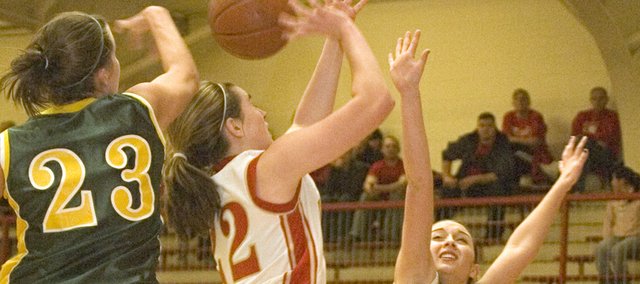 Photo Gallery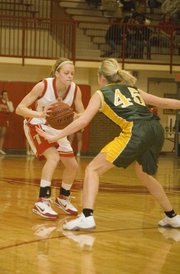 Tonganoxie girls lose to rival BLHS
Tonganoxie High's girls basketball team lost 74-53 at home to rival Basehor-Linwood on Tuesday night.
The Basehor-Linwood High girls basketball team buried 10 three-pointers and pasted Tonganoxie, 74-53, on Tuesday night.
Chieftains coach Randy Kraft said he was expecting the Bobcats (6-6 overall, 3-2 Kaw Valley League) to hit some long-range shots, but one BLHS player's performance caught THS (5-7, 3-2) off guard.
Junior Shelby Equels, who wasn't known for her stroke, knocked down four threes and scored 14 at Tonganoxie.
Kraft said the Chieftains knew such a show was possible, but figured it would come from Basehor-Linwood senior Cassy Bever, who didn't disappoint with four threes of her own and 18 points.
But the overall barrage (Courtney Poe and Jamie Johnson also hit from deep) was too much for Tonganoxie.
"If somebody shoots 10-of-18, it's pretty tough to beat them on a night like that," the coach said.
THS also had no answer for Bobcats junior Megan Bergstrom inside and she finished with a game-high 24 points.
"We didn't guard anybody," Kraft bemoaned.
Tonganoxie hit five threes on the night, with three coming from senior guard Andie Jeannin.
Chieftains freshman forward Jenny Whitledge led the team with 15 points and senior sub forward Lindsey Fatherley added 10.
The Bobcats never trailed.
Tonganoxie plays host to Perry-Lecompton on Friday at 6 p.m.
Basehor-Linwood plays host to Turner on Wednesday.
Score by quarters
BLHS 16 18 21 19 — 74
THS 10 11 14 18 — 53
BLHS scoring
Shelby Equels 5 0-0 14, Courtney Poe 5 0-0 11, Megan Bergstrom 10 4-7 24, Cassy Bever 7 0-0 18, Jamie Johnson 2 2-2 7.
THS scoring
Lauren Hall 3 0-1 7, Andie Jeannin 3 0-0 9, Lindsey Fatherley 3 4-5 10, Jenny Whitledge 5 5-6 15, Danielle Miller 2 0-0 4, Hannah Kemp 1 5-6 8.