Snap Fitness finds business booming at Basehor gym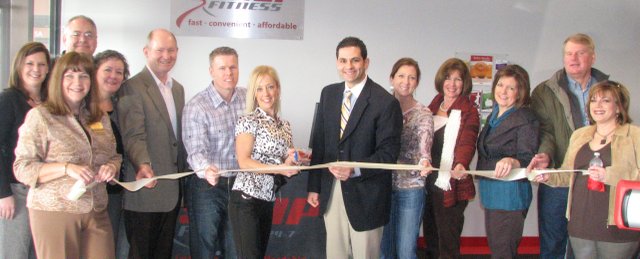 It's been nearly two months since Snap Fitness opened its newest location in Basehor, and business is booming.
"We've been so busy," co-owner Jen Rhodes said Wednesday morning at the gym's ribbon cutting ceremony. "Really, since we opened, we've been at a dead sprint. We didn't expect the response to be this huge, but it's been so amazing."
Wednesday marked the official opening of the Basehor Snap Fitness, 15604 Pinehurst Drive, and members of the Basehor Chamber of Commerce gathered to celebrate the event and witness the ribbon being snipped.
With approximately 250 members already signed up, co-owner Matt Rhodes agreed with his wife that the word has sufficiently been spreading.
"We actually became kind of overwhelmed at first," he said. "But now we're getting our feet under us, and it's going great. It has been very good to do business in Basehor."
The Rhodes established a gym in Shawnee nearly three years ago, and Basehor was their latest adventure in offering communities a unique, convenient and affordable approach to exercise.
The gym is open 24 hours a day, seven days a week, so members can work out whenever their schedules allow. A staff member is on hand 11 a.m. to 3 p.m. and 5 p.m. to 8 p.m. Monday through Thursday, 11 a.m. to 3 p.m. Friday and 9 a.m. to 1 p.m. Saturday. During these times, members can receive assistance from staff or potential members can take a tour of the facility. Outside these hours, gym members have access to the building with a keycard.
Another unique element to Snap Fitness, the Rhodes say, is its sign-up process. The gym has no contracts, and members can pay on a month-to-month basis.
"We just don't do contracts," Matt said in a previous interview. "People aren't going to be able to work out regularly each month. It's not fair for us to continue taking their money when they aren't working out."
For more information, call (913) 724-2424, or stop by Snap Fitness in Basehor.