Students craft valentines for
VA

hospital, elderly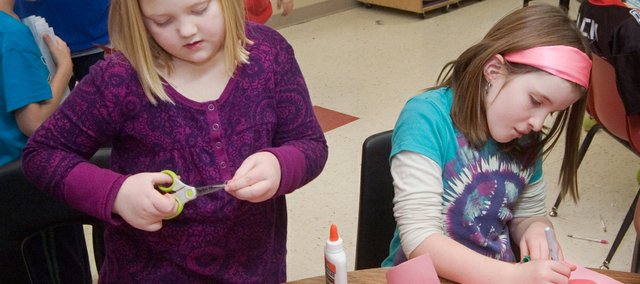 Various hues of red, white and pink were scattered on desks and floors Friday throughout Tonganoxie Elementary School.
TES students were making Valentine's Day cards of various shapes and sizes that will be given to patients at the Veterans Administration Hospital in Leavenworth, as well as Tonganoxie Nursing Center and people living at Vintage Park in Tonganoxie.
On Friday, students in grades kindergarten through fourth grade made about 1,800 valentine cards.
TES counselor Connie Weltha said the project was part of the Valentines for Vets, the nationwide effort born from an Ann Landers column several years ago.
Weltha said she's coordinated the drive several years during her counseling career. This is the first year she has organized it in Tonganoxie. It's her second year as counselor at TES.
Weltha said the school is focusing on various community projects this school year.
She said the inception of Team Tongie this past school year "set the tone" for community projects and got the ball rolling for "stepping it up a little bit" at TES, Weltha said.
Already this school year, TES has raised about $1,700 for the National Kidney Foundation and Autism Speaks and more recently raised $800 for the American Red Cross' Haiti relief effort. Students also have brought food for the Good Shepherd Thrift Store and Food Bank and the school backpack program.
Pennies for patients
Tonganoxie High School students will be emptying their pockets this week in an effort to raise money for the Leukemia and Lymphoma Society.
The THS Student Council, which is sponsoring the Pennies for Patients program, has already started collecting funds. Tuesday morning, students were in front of the school, collecting spare change as people walked in to begin the day. Today, money is being collected during lunch. To end the week, a casual dance is planned for Friday, following the boys' basketball game.
Collection bins can be found at area gasoline stations and banks for the remainder of the week as well.