Basehor guard more than an average Poe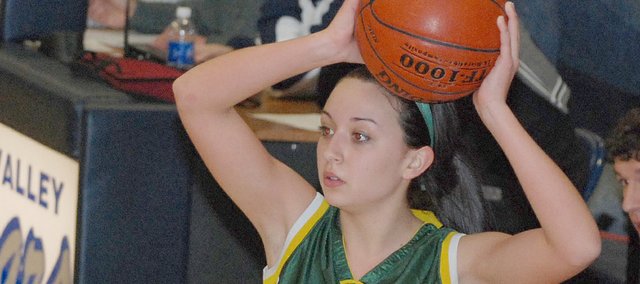 It was one of those days where nothing seemed to go right.
The Basehor-Linwood girls basketball team was battling foul trouble, as well as a tough Park Hill (Mo.) opponent with a mean full-court press and frustrating zone defense.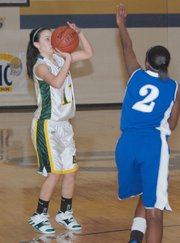 The Bobcats trailed by double digits at halftime during the fifth-place game of their home tournament. They needed an answer, and fast.
That answer came in the form of Courtney Poe.
The junior dished back-to-back assists to senior Cassy Bever on the first two possessions of the third quarter. Poe then buried three 3-pointers and blocked a shot, all during a 13-5 run that brought her team within four points.
Ultimately, Park Hill pulled away for the victory, but Poe poured in a season-high 15 points to go with five assists in a performance symbolic of her rapidly expanding role with the Bobcats.
BLHS lost sure-handed point guard Amber Jeannin and electrifying scorer Bren Koontz to graduation. Another key reserve didn't come out for the team this year. That left the Bobcats needing a floor general to replace Jeannin and someone to pick up some of Koontz' scoring.
Coach Noah Simpson asked Poe to do both as something of a point guard/shooting guard hybrid. It wasn't a transition he expected would be easy, but he was confident Poe could handle it. Barely halfway through the season, Simpson admits he can't believe how well it has worked out.
"Coming into the season, we knew that she'd be a hard-nosed competitor and she'd get after it," Simpson said. "There were question marks about the scoring, not because she couldn't do it, but because she'd never really been asked (to score a lot).
"She's really just evolving. Did I think it would happen within 11 games? No, honestly I didn't. My hope was that by March she would be evolved into that kind of point guard, and to have it happen now and just keep fine-tuning things has been awesome."
NO EASY TASK
Poe's adjustment to her role is more impressive to Simpson considering the Bobcats have played arguably the most difficult schedule in school history — as well as one of the most challenging of any Class 4A program in the state. They were 5-6 through 11 games, with losses to state powerhouse St. Thomas Aquinas (No. 3 in Class 5A), Lansing (No. 8 in Class 5A) and Ottawa (No. 5 in Class 4A) during that span and key victories against Jefferson City (Mo.) Helias, St. Teresa's (Mo.) Academy and potential substate foe Sumner Academy.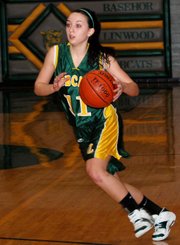 Poe said she wasn't intimidated by the tough slate, and instead welcomed the challenge.
"I actually love that we're playing these hard teams. It gives us time to learn what we really need to get down to, what we really need to work on," she said. "It helps us face adversity and it helps us work through everything.
"I would rather go out and play good teams and see what we can do. Our potential is definitely there, and all that really matters is the one at the end. This season, no matter what happens, the only thing that matters is what happens (at state) in Salina."
THE EVOLUTION
Poe credits her predecessors, Jeannin and Koontz, with some of her development as a point guard/shooting guard hybrid.
"I definitely learned a lot from Bren with her toughness and Amber with her crazy defense," Poe said. "If you sit on the bench, you can watch and just learn so much. It definitely helped having them out there leading by example and leading the team."
Simpson said Poe used her time wisely as one of the team's key reserves during her sophomore season.
"Sometimes you do get placed behind good players, good guards, but if you approach it the right way like she did and try to learn every step of the way, it can be very, very beneficial. I think it has been for her," Simpson said.
Poe also credited her current teammates with helping her settle into her new role so comfortably. They trust her to make plays, whether it's knocking down shots herself or getting the ball to a teammate in position to score. That much was evident during the third-quarter comeback against Park Hill.
"It's nice to know that they can trust me with those things," Poe said. "They also know in return that I trust them — passing it to them for the three and I know Cassy (Bever) can hit it, I know any of us can hit it. Everybody needs to have confidence, and I think we're getting there. I really do."
More than a passer and shooter, Simpson said Poe has brought leadership and maturity to a team that has just two seniors on the roster. She says the right things in the right tone, she conveys confidence and she doesn't get rattled under pressure.
Simpson noted that Poe's leadership was even more valuable during tough times against opponents like Aquinas, Ottawa and Park Hill that could test the Bobcats' resolve.
"Her leadership has been great," he said. "In the locker room after the game, she's asking kids to stay focused, to know what our goal is, to stay upbeat. She's the first one to interject, and she says things in the right way. She's doing such a great job. She keeps us composed during the games, she hits big shots, she gets assists. She's doing so much for us, and it's just been tremendous."
STATE OR BUST
Throughout the bumps and bruises of the early schedule, Poe said the Bobcats have never lost focus of their ultimate goal: to earn a trip to the Class 4A state tournament in Salina.
She said she's confident in the talent that surrounds her on the court, whether it's the dominant post play of junior Megan Bergstrom, the sharp-shooting talent of senior Cassy Bever, the wise-beyond-her-years reliability of freshman Jamie Johnson or the tenacious defensive play of senior Taylor Johnson, junior Shelby Equels and sophomore Cara McCarty.
As a team, the Bobcats have weathered the challenging early-season schedule, held their own with a few state powerhouses, and now Poe said they're ready to make their push toward the postseason.
"I think we're going to surprise a lot of people," she said. "Some people might not have very much faith in us, but I think we're going to surprise everybody and we will make it to Salina. We will; there's no doubt in my mind that will happen."