Bonner resident a top gun in state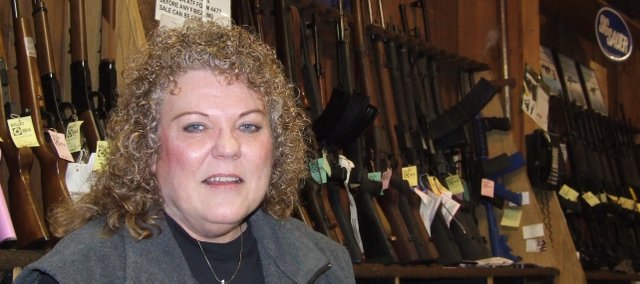 Patricia Stoneking's life path seems to have taken a natural flow.
The Bonner Springs resident naturally got involved with firearms from her hunting enthusiastic family; she naturally found a role as activist for firearms that led her to lobby the Kansas government to change laws; and she naturally found a career out of educating people about proper firearm use.
Each big turning point has led her to where she is today – the first woman in Kansas to be elected president of the Kansas State Rifle Association and the first person ever to hold that position for three consecutive years.
Stoneking, a Shawnee native, held her first gun at age 8. It was a BB gun that her father gave her.
"My dad thought it was a cool thing to do," she said. "I had a brother three years younger so I don't think he could wait for him to be old enough."
Throughout her youth, Stoneking would hunt and shoot guns with her family recreationally. But the most important lesson she gained growing up around guns, she said, was the proper procedure for handling such a powerful device.
Throughout the years as she grew and developed her love of firearms, Stoneking said she noticed a shift in how firearms were perceived and the government regulations that kept coming.
"In the 60s growing up, it was not like it is now," Stoneking said of her involvement with guns at a young age. "I don't know how we got where we are now, people thinking we shouldn't have them. I grew up with it. It was a natural thing to do."
This realization led Stoneking to become more vocal about gun rights.
With her activism role ramping up and the beginning of a search for a new career, Stoneking decided to put the two together.
"It just seemed natural for me to go ahead and get my instructor's certification," she said.
In 2003, Stoneking started Target Master Shooting Academy LLC. She currently spends seven days a week teaching at the Bullet Hole in Shawnee. From beginners who have never touched a gun to advanced students who compete in shooting sports regularly, Stoneking says that education is a vital role of protecting the Second Amendment.
"We have people who come in excited and others who are nervous or apprehensive," she said. "Teaching is very gratifying to have students leave class excited, no longer concerned or fearful about handling guns."
In 2005, Stoneking joined the Kansas State Rifle Association looking for a way to be more connected and get further involved with gun rights.
"I decided it was time to get in the fight and see what I could do," she said.
It was in 2008 when Stoneking was asked to run for president of the association. With big shoes to fill, she said it was an honor to be asked and she took on the role with enthusiasm. She was then re-elected in 2009, and even though presidents had typically only served two years, she was asked to serve a third term as president in 2010.
During her time as president, Stoneking has tripled the membership of the Kansas association to a current tally of about 3,400 members.
Stoneking was honored in 2008 for her role with the association and the strives she had made to that point by the National Rifle Association. She was given the Marion P. Hammer Woman of Distinction Award, which recognizes three women each year for their contributions in support of the Second Amendment at the national level.
"I was raised in an environment, old-school, where everyone felt the constitution was critically important, not only for our history but our present," she said. "We have to protect the Second Amendment in order to protect all the others."
Stoneking said she will continue to fight for gun rights as long as people continue to put regulations on something that is "a right, not a privilege." She said she believes there should be no regulations when it comes to owning guns. She said the argument that keeping guns away from people will cut down crime is irrational.
"You can't take away the rights of law-abiding citizens to stop crime," she said. "Bad guys are not walking into gun shops."
As for spree shooters who have been known to purchase firearms at gun shops, Stoneking said many didn't have any prior records so the background check was useless. Where the system failed, she said, was in the people who noticed disturbing characteristics about these shooters, but did nothing with that information.
"There will always be whack jobs out there and no amount of background checks will stop that," she said.
Instead, Stoneking said she believed education needs to play a huge part in teaching people how to respect firearms and use them as tools.
Whether it be youth shooting programs as electives in schools or promoting classes at shooting ranges, Stoneking said education is important as any hobby someone takes on.
"Somewhere along the way someone put an evil face on guns," said Stoneking, adding that she would continue to fight until the right to bear arms without restriction is recognized.
For more information about Stoneking's shooting academy, go online to targetmasteracademy.com.