Deer hunting still a matter of dispute in Basehor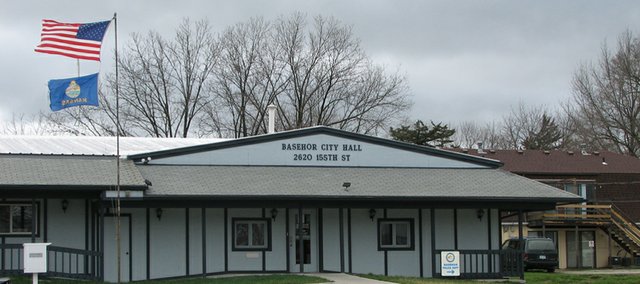 Emotions continue to build as the Basehor City Council and residents vocalize their opinions about deer hunting in the city.
At Monday night's work session, council members addressed for the second time a request from a city resident to allow bow and archery hunting on his property, and they agreed to put the item on the Feb. 22 agenda for a vote.
During the council's January work session, Joe Nick requested the council consider issuing him a special permit for deer hunting on his property on State Avenue. Bow hunting had previously been occurring on Nick's property because be obtained a permit for it several years ago, but the permit had since expired. Nick told the council in January he wanted to allow people to hunt on his property to control the deer population, as deer had long been destroying his crops.
Several of Nick's nearby neighbors are combating the request because of the danger they say it presents to members of the community.
At the request of the council, the Basehor city staff, including Police Chief Lloyd Martley, drafted an ordinance that would allow bow hunting in the city as a means of controlling the deer population. If it went into effect, the ordinance would legalize deer bow and archery hunting in certain areas of the city, with each hunter being required to take a proficiency test along with a written exam covering the city's hunting restrictions and guidelines.
Hunters would also have to obtain written permission from the landowners, sign a legal liability release, have a state hunting license and a Kansas deer permit and pay the city a $10 fee.
Martley said he was involved with the ordinance objectively and desired only for the council to have enough documentation to make the best decision for the city and its residents.
"My stance on this was completely neutral," Martley said. "I was just gathering the information for the council to make a conscious decision."
A few concerns about the ordinance were raised by council member Bill Moyer. Moyer said, in order to prevent unnecessary injury, he wanted neighboring residents to be notified of days and times hunters would be out near their property.
"I think about Murphy's Law: if anything can go wrong, it will go wrong," Moyer said. "A guy shoots an arrow and sneezes. I think the intent is to allow (urban deer management) to occur but to minimize risk, so over time, no one gets hurt except a deer. How can we do this so people know this is going to happen, and no one gets hurt?"
Council President Jim Washington, who presided over Monday's meeting in Mayor Terry Hill's absence, said the type of people who would be bow hunting in Basehor were not going to put neighboring residents in harm's way.
"Let me talk a little bit about people who hunt," Washington said. "The people who (bow hunt) are usually very responsible, and you will find that the people who allow (hunting on their property) will self-regulate. It requires a certain dedication to the sport and certain amount of responsibility and a certain level of skill, a very high level of skill actually."
Among the Basehor residents who are against hunting in the city is Richard Maleta, who lives near Nick. Maleta told the council Monday night he and his wife found bloody surgical gloves and a deer carcass on their property and frequently heard gun shots coming from near their house. Accidents happen, Maleta said, and sometimes those accidents bring serious consequences.
"My son was the EMT who saved that girl's life in Linwood when she was shot by a stray bullet," Maleta said. "You give an inch and they'll take a yard. One time is all it's going to take."
Both Washington and Martley agreed gunshots were a serious concern, but said this ordinance only addressed bow hunting.
"This issue is about bow hunting, not shots fired," Martley said. "We take shots fired very seriously. We're not going to stop the gunshots whether this passes or failed. We're going to have to continue working on it. We're doing everything we possibly can to stop that. That's absolutely illegal everywhere in our city, and we'll do whatever we can to make it stop."
"Everything you've talked about here is patently illegal at all times," Washington said to Maleta. "Urban deer management is a problem that needs to be taken care of. The fact that some other people break the law is not going to be impacted by this."
The issue will be addressed again at the Feb. 22 regular meeting, when it will be voted on by the city council.
Also on Monday night, the council:
• Discussed implementing emergency snow routes in the city. The city staff has been working to create a route on which drivers will not be allowed to park their cars when snowfall exceeds two inches.
• Discussed the city's possible options in aiding the Basehor Athletic Association Field of Dreams (BAA). BAA requested financial assistance from the council, and City Administrator Mark Loughry told council he believed the best option was for the city to buy the facility. The issue will be addressed further at the March work session.
• Discussed a resolution concerning the city's time clock policies. The city's staff members already track their hours using a computer time clock, and this resolution would solidify rules and guidelines for time clock use.
• Discussed an amendment to the city's standard traffic ordinance concerning driver's licenses.
• Discussed implementing uniform speed limits in the city.