Students chosen for state choir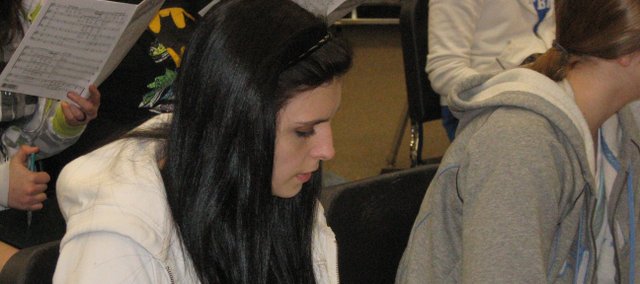 Fourteen songbirds in the Basehor-Linwood School District have recently been recognized for their musical abilities.
Students at Basehor-Linwood High School, Basehor-Linwood Middle School and the Basehor Elementary Sixth Grade Center were named to All-State Chorus and State Treble Choir. The girls who were selected for these choirs will perform in one of two concerts with other students from across the state the last weekend of February in Wichita.
From the high school, senior Andi Thomason was named to All-State Chorus, and freshmen Cheyenne Morris, Taylor Riley, Rachael Cook and Jami Lynne were named to the State Treble Choir.
"We were really excited. I did my happy dance," Lynne said with a laugh of hearing the news.
Each of the girls had to audition for a spot in the choirs, a process they said required practice and dedication.
"We sang (the audition song) a lot and made recordings of ourselves and CDs to practice at home," Morris said. "And we practiced all the time in our choir classes."
From the middle school, eighth-graders Chloe Freemire and Emily Miller were selected for State Treble Choir, along with seventh-graders Reagan Prescott, Lindsay Taylor and Lee Seitter. At the Sixth Grade Center, Joslyn Foley, Claudia Jacobs, Katie Lucas and Kaity Smith will also perform in the Treble Choir.
High school and middle school choir director Wendi Bogard said being named to the All-State or Treble choirs was a tremendous honor that came only after the students put in the time, effort and skill to achieve it.
"When kids are selected for state choirs it means they have worked hard to learn the music but they have also learned how to produce a good singing tone, maintain pitch while singing without accompaniment and sing out in a strong voice," Bogard said.
Not only do the students selected to these choirs benefit from the experience, but Bogard, who has directed choir in USD 458 for 11 years, says their entire classes will learn and improve their skills, as well, when the students return.
"I like to have students participate in state choirs because they get to rehearse and perform with outstanding musicians from across the state," she said. "After participating in these choirs, the singers come back to the home choirs with that amazing sound in their ears. The honor choir kids then want to achieve that sound and intensity in class, and they influence the other kids in the room. Everyone gets better as a result of the honor choir experience."
Look for a story on the Basehor-Linwood High School band students named to the All-State ensemble in the Feb. 10 issue of the Sentinel.